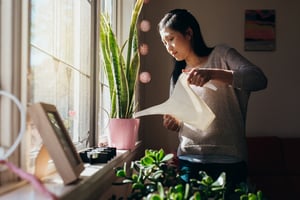 When considering how to best keep you and your loved ones healthy at home, there are many different aspects that come into play. Coupled with the ongoing fallout from the pandemic, having a healthy home is proving more essential than ever.
Fixr.com surveyed and interviewed top industry professionals to find out how homeowners can modify their homes to protect themselves and their families from disease, illness, and injury. Experts also revealed the biggest priorities this year for people when it comes to having a healthy home.

Who is Most Concerned About What?

According to 62 percent of experts surveyed, millennials are most likely to be interested in having a healthy home. Their potential greater awareness of environmental issues could help explain this. But what issues are they, and others, most concerned about?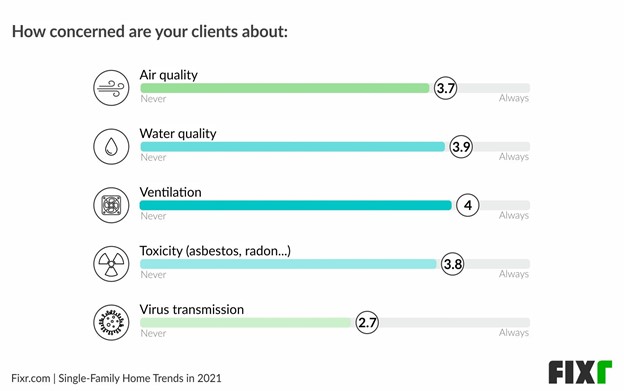 Most experts believe that ventilation and water quality are homeowners' most important concerns when trying to remain healthy at home, while being slightly less worried about toxicity, air quality, and virus transmission. The varied responses can be attributed to the fact that these different areas overlap and affect each other. For example, good ventilation often ties in closely with good air quality, and toxicity can be found in poor water and air quality.
What's a Healthy Home?
There are many different concerns people have when it comes to keeping their homes healthy, but what exactly is a healthy home? Other than high-quality water and air, a
healthy home
is a place where you can live free of hazards, in a space designed to maintain your well-being. Other issues homeowners need to be aware of and keep on top of are pests and contaminants. Amanda Reddy, executive director of the
National Center for Healthy Housing
points out that priorities for a healthy home can vary depending on a variety of factors, such as location, design and maintenance, and people's interactions with the home environment.
What are Some Ways You Can Create a Healthy Home?
1. Use a high-efficiency, particle-absorbing (HEPA) filter to improve air quality.
When it comes to improving air quality, 43 percent of experts say HEPA filters are the most popular approach among homeowners. HEPA filters are an effective way to remove contaminants in the air. They can also help reduce allergens and viruses, meaning that whatever your main concerns are for having purified air, HEPA filters are sure to help.
2. Clean regularly.
It may seem obvious, but cleaning your home regularly,
especially if you have pets

,
is essential. This will help keep your home free of things, such as dust and contaminate buildup, which can lead to more serious problems for those with health issues. Regular cleaning can also help reduce the probability of
mold
, another issue that can cause health issues. Proper hygiene has taken on even more precedence in the wake of the pandemic, with homeowners making sure their homes remain free from the spread of the virus.
3. Check for undetected dangers.
Especially for people living in older homes, there can be hazardous features that go unnoticed. These problems aren't easily detectable because they can be in paint, insulation, or flooring. Two of the most common materials which can lead to health issues are asbestos and lead paint.
4. Be sure to ventilate your home properly.
There are many benefits to having a properly-ventilated home. Positioning windows allowing air to flow or installing whole-house fans mean that fresh air can enter the home. This air can help reduce contaminants and moisture, as well as subsequent issues that can occur from both.

Every Little Bit Helps

Despite the abundance of features and methods that are often needed to achieve a completely healthy home, starting by implementing a few can create a big impact. Expert knowledge helps us understand the most popular, in-demand aspects of a healthy home, allowing homeowners to make the best decisions to keep themselves and their families as safe as possible.

Author Bio: Adam Graham is a construction industry analyst at Fixr.com, a website that offers home remodeling cost-guides and connects homeowners with service professionals. He analyzes and writes about the home construction industry, interior design trends, and real estate.