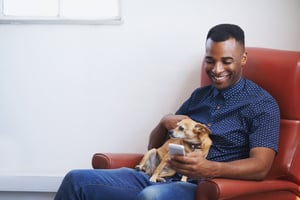 With technology being at the forefront of most people's lives now, it's no surprise that a large number of apps have been developed to support you in raising your pet.
Sixty-eight percent of US households own a pet, which equates to around 85 million families, according to the American Pet Products Association's 2017-2018 National Pet Owners Survey.
Whether you're looking for an app to help you organize your pet's routine and schedule, a fun game for your cat, or to connect with other local pet parents, this roundup of the best apps for pet lovers has you covered.
Best Free Apps
ASPCA Animal Poison Control Center
An essential app designed by the ASPCA is the Poison Control Center App. All pet parents know how worrying it can be when you spot your dog eating something it shouldn't be eating. This app allows you to search for substances or plants and then gives you a color-coded risk assessment, poison calculator, list of symptoms, and actions to take.
Aquarium Live HD
If you're the pet parent to fish, you know how calming and soothing it is to watch your fish swimming around in their tank. This app allows you to enjoy the comforts of watching an aquarium, even when you're out and about. There are proven benefits to watching fish in an aquarium, including reducing stress levels and improving mental health.
BarkHappy
We have social media accounts to keep in touch with our friends, so why not have a social media account to stay in touch with other dog lovers? BarkHappy uses your location to show you nearby dogs that might be compatible to play with your dog so you can meet up for doggy dates and walks. It also helps you find pet-friendly places like hotels, shops, and parks.
Dog Walk
This app is an exercise tracker for your dog. It tracks your dog's walks using your phone's GPS. It displays the time taken to complete the walk, the distance covered, and a map with your current location while on the walk. Pet parents can also use this app to take and save pictures. The routes can be shared with family and friends too.
DogVacay
This app allows you to book a local dog sitter to look after your dog while you're away, whether for the afternoon or a longer vacation. You can arrange for a pet sitter at your home or theirs, look up details of your dog sitter, and arrange meet-up sessions to get to know the sitter before handing off your precious bundle.
FindShadow
This app can help you find your dog if he goes missing. If you haven't spent much money on an expensive tracker for your dog's collar, this app uses all the other FindShadow community users to help you find your dog. With pre-made fliers and a database of lost and found dogs, this app can help you immensely in a time of need.
Games for Cats
This app is a game that panders to a cat's natural instincts to chase small things. The basic app version has a glowing laser dot that dances around the screen, or you can upgrade with an in-app purchase to allow your cat to chase a butterfly instead.
P5 Dog Training
Purina's P5 Dog Training App is an excellent dog training resource with tutorials, videos, and tracking tools to help you train your pup new tricks and obedience skills. It also has an activity log so you can record your dog's exercise sessions, and it can be used without Wi-Fi or a mobile connection.
11Pets
11Pets is a journal app that allows you to document your pet's needs and health journey. You can use this app to stay on top of your pet's vaccinations, vet appointments, and medicines. You can also store your vet's details, previous medical history, and photos.
Best Paid for Apps
Aquarimate
This app is ideal for managing both freshwater and saltwater tanks. It has all the information you need to care for your tanks and a large variety of tools to check tank parameters and set task reminders.
Pet First Aid
This app, which the American Red Cross created, could save the life of your pet. It has all the tools you'd need in the case of an emergency with your pet. You can find the nearest vet hospital, figure out how to treat allergic reactions and minor injuries and get some guidance on normal puppy behaviors.
Relax My Cat
This app has been designed to allow cat owners to help their cats relax by playing calming music. There are different songs for different situations, for example, music to help a cat sleep and music to help with separation anxiety. The music can be set to a continuous loop or sleep timer.
Whistle 3
This app helps track a device worn on your pet's collar, allowing you to keep tabs on it. The device tracks your pet using GPS, Wi-Fi, and cellular signal. The app will enable you to set safe areas and receive notifications if your pet leaves a particular area. In addition to tracking your pet, you can also use the app to record your pet's activities, set goals, and create graphs.
Author Bio: Robert Woods, creator of FishKeeping World, is an avid aquarist and pet lover. He set up his website to share his vast knowledge of fish keeping with the world. He enjoys creating species-specific guides as well as sharing general fishy tips.
Please check your app store for availability.