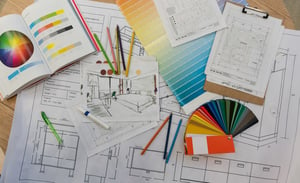 Owning a home comes with both responsibilities and rewards. So before buying, you must do your homework to ensure the home fits your budget and lifestyle. It doesn't matter if you built a new home or purchased an existing home; at some point, you'll probably decide to make some improvements.
With access to so much information, some homeowners choose to tackle those "Do It Yourself" (DIY) projects. There are, however, many things to consider before you start: What part of the home is being remodeled? How much will it cost? How much time will it take? Do you have room for equipment and materials? Once you have those answers, you may discover that a professional should handle the DIY project. Insurance is an important factor in choosing a professional contractor.
You should find out if they have the proper insurance coverage to protect themselves and you. Ask for a copy of their insurance policy, called a Certificate of Insurance, to ensure they have general liability and workers' compensation coverage. If the contractor is injured while working at your home or the newly installed dishwasher starts to leak, you want to be sure you're covered.
When considering how much coverage you need for a home improvement project, the current value of your home is vital. Whether you're building an addition to your home or simply upgrading your kitchen cabinets, it makes sense to increase the value of your home on your insurance policy based on the improvement(s) you're making. That also means increasing the amount of coverage on your policy. You don't want to be underinsured if there's a loss during construction or after the work is complete. Remember, the most simple projects often turn into much bigger projects.
With West Bend's Home and Highway® policy, we ask that you notify us within 90 days of project completion if it costs at least $5,000 or 5% of your current Coverage A limit for the guaranteed replacement cost coverage. Do you know what your policy requires?
Talking with your local independent agent before starting any home improvement project is a great idea. There are many things to discuss, including:
Will you live in the home during the remodeling process or move out for an extended period?
Do you have appropriate coverage for materials, like lumber and shingles, that will be stored outside the home?
What if you rent a large moving truck to pick up the new windows you purchased? Will your auto policy cover the truck and windows if they're damaged while in transit?
What if your new detached shed collapses during heavy winds before it's completed?
These are just some of the things for which your insurance agent can make sure you have the right coverage.
Do you have any suggestions or information you'd like to share? I'd love to hear from you. Please share them in the box below.
This blog was written by Sarah Faris, senior Personal Lines underwriter.
This article is intended for general educational and illustrative purposes only and should not be construed to communicate legal or professional advice. Further, this article is not an offer to sell insurance. Please consult with your licensed insurance agent for specific coverage details and your insurance eligibility. All policies are subject to the terms, conditions, limitations, definitions, and exclusions contained therein.