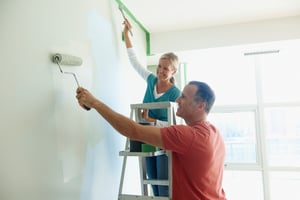 You might think the warmer seasons are the only time to take on home improvement projects, but there are a lot of things you can do this winter. Whether it's some fresh paint, furniture updates, or minor cosmetic changes, you'll be able to get a lot accomplished during the colder months of the year so you can spend more time enjoying your home when warmer weather arrives.
Add a Fresh Coat of Paint
Painting the interior of your home can seem intimidating if you haven't done it before, but a lot can be done in a few simple steps. The first thing you'll need to do before painting is take any decorations off the walls. This includes pictures, shelving (if it can be easily removed), sconces, and outlet covers. Before doing this, it's a good idea to take photos of where your decorations were hung if you want to put them back in the same places after your painting is complete. You should also take the time to outline your baseboards, window trim, ceiling, and doors with painter's tape. This will make the process of painting the walls easier and help you avoid making mistakes or painting outside the walls.

Once your space is painted, you can add in some new decor if you choose. This will give your
room a fresh, new look while keeping costs low. Even if you decide not to change anything else, the new coat of paint will modernize your home. This will especially help if you choose a
trending color palette to elevate the look of your home.
Refresh Your Space with New Furniture
If painting isn't something you want to take on, there are other things you can accomplish
without getting your hands dirty. Taking the time to purchase some new furniture and
accessories for your space can give your home a beautiful new look without having to undergo any major renovations. If you're looking for some ways to transform your space on a budget, upcycling might be a great option for you. Upcycling is purchasing outdated or damaged furniture at a low cost and adding some minor cosmetic upgrades to give it a new look. This can be as simple as some paint and new hardware or can even include adding cabinet doors to a bookshelf if you're handy. Many people also have success finding slightly used brand-name furniture on sites like Facebook Marketplace. This is more common if you live in a larger city but is a great way to get quality pieces at a slightly cheaper price than in a retail store.
Make Small Upgrades to Your Kitchen
The kitchen is truly the heart of your home. So many gatherings with family and friends are
centered around meals and having a beautiful kitchen for entertaining will take your get-
togethers to the next level. In a kitchen especially, minor upgrades can go a long way. Painting
your cabinets and adding new hardware can modernize the space and keep costs relatively low. You can also splurge on some new stainless-steel appliances if yours need a refresh. New
appliances are definitely a large expense, but modern, energy-efficient appliances can often
save you a lot of money on your utility bills in the long run.

The winter months are also a great time to renovate your tiles or countertops. Although these projects are more involved, they make a huge impact on the style of your home. If you want to upgrade your backsplash tile, there are many budget-friendly DIY options you can utilize. Adding a peel-and-stick white subway tile backsplash will give your kitchen a modern look, but will be timeless enough that you won't be ready for a new design three years down the road. The best upgrades are ones that will sustain you for many years to come and give your home a timeless look.
Stick to a Budget
It's important to keep your budget in mind when tackling winter projects. Getting in over your head in terms of expenses can lead to unfinished projects and a messy financial situation if you're not careful. Consider your budget and how it corresponds with your available funding options, whether that be a dedicated savings account or use of your home's equity. Then, set a price cap for each room in your home based on the amount of work needed. This can help to both prioritize projects and prevent any impulsive spending on projects you don't necessarily need. Talk to your lender to learn more about financing your next home improvement project.
Do you have any tips or information you'd like to share? I'd love to hear them; please share them in the box below.