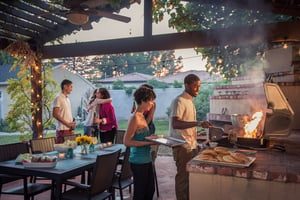 Love to entertain and cook outside? Then, it's no surprise you're a barbecue and grill fan. It doesn't matter if it's a summertime party or just a family meal, a grill and barbecue station will transform any patio into a backyard paradise. Whether it's hot dogs, burgers, or smoked meats, the right space and type of grill will make cooking outdoors an amazing experience any time of the year. Here are some helpful tips that'll inspire you to create your own backyard paradise with a custom do-it-yourself grill station.

Different Types of Grills

It's important to choose a grill that'll suit your space, needs, and unique cooking style, before you design your barbecue station. Here are some examples of popular types of grills to help you decide which option will work best for you:

• Charcoal. This classic choice is easy to use. It's affordably priced, but you may need lighter fluid to ignite the charcoal. While some people complain about using lighter fluid, the charcoal grill leaves your food tasting flavorful. A small hole in the bottom allows ash, burnt food, and grease to escape, but it's a good idea to clean the grill regularly.

• Gas and Propane. This is the most popular choice for most American households. It's easy to operate and cooks food evenly. A gas or propane grill runs on fuel. If you purchase a refillable tank, you can refill it once it runs out. Or you may be able to do a tank exchange at your local hardware or convenience store when needed. I'd recommend always having an extra tank on hand. An average size grill can use one to four burners and put out approximately 40,000 BTU of heat.

• Wood. This grill is a great choice if you're fond of the taste of smoked meat. Pick your favorite type of wood to use as a fuel source. As the smoke seeps into the meat, it creates a marvelous, smoky flavor that's tasty for pork, beef, and chicken.

• Pellet. This grill uses small pellets as fuel. It's best for foods you need to cook for a long time. Patience is required with this type of grill. It tends to produce lower heat levels than other grills. Therefore, cook times will be longer.

• Kamado. This egg-shaped grill constructed of thick ceramic can weigh 150 pounds or more. It's a high-end version of a charcoal grill. The ceramic walls trap heat nicely, providing the benefits of a grill and smoker all in one.

• Open. An open or open-pit grill is basically a large, wood-burning firepit with a grate for cooking food. This primitive-style grill is a lot of fun to use, and cleanup is easy because you can bury everything in the ground once you're done. If you really want to get wild, consider cooking your meat on wooden stakes rather than on a metal grate directly over the top of the open grill.

• Electric. If you live in an area where traditional grilling is prohibited, an electric grill may be right for you. This grill uses electricity, and it operates like a traditional stovetop.
Rotisserie. This type of grilling involves rotating food over a flame. The slow-cooked method of rotisserie creates mouthwatering, tender foods that have tons of great flavor.

Tips for Designing Your Grill Station

It's a fun project designing and building your DIY barbecue station. If you're handy, you can do most of the construction yourself. Here are some tips to help you:

1. Select a design. You can customize the design, layout, and size, depending on how much space you have. Draw the design of your station on paper. Play around with a few different layouts and sizes before you start the build.

2. Select a grill type. Picking a grill or considering other alternatives, such as ovens and smokers will help your grill station come to life. A simple brick oven is great for making homemade pizzas, and also a good choice for fish. This type of oven is a good option for vegetarians too. You can cook veggies. Portobello mushrooms are delicious and make a wonderful substitute for burgers.

3. Make it comfortable. The sky's the limit when it comes to outside furniture. Add some comfortable furniture to your barbecue station. Build your own custom furniture using old wooden pallets, or feel free to refinish or upcycle older patio furniture to give it a new look.

4. Add the finishing touches. Add some unique features like stone veneer or tile around the grill or oven. Corrugated metal is also a fun way to give the station a rustic look. Design and build your own custom counters and top them with a slab of stone, like marble or granite, for a beautiful touch.

5. Hire a contractor. If you need a little help, hire a contractor. Major upgrades are best handled by the pros. Get at least three estimates to ensure you're getting the best job for the best price.

Don't Forget the Accessories

It's time to include some important accessories to make your new upgrade complete.


Grill cart. Add a durable, weather-resistant grill cart to your station to help you transport food and other items. Make sure you can easily move it throughout your backyard or patio area.
Decor. Add some of your own decor to make your station unique. Ideas include outdoor lighting like solar stake lights or string lights. A patio umbrella will keep you cool and a dining table will make eating food easy and fun.
Accessories for the griller inside you. Accessories are necessary to ensure your grilling is a success. Grab things like an apron, spatula, tongs, and a grill cleaning kit.
A DIY grill station is a wonderful outdoor project. With your new barbecue and grill station, you'll look forward to summertime and outdoor fun with family and friends.

Author Bio: Adriana is a member of Porch Content Marketing department, and loves sharing tips and advice to make every DIY project as easy and fun as possible. She is passionate about SEM, outdoors, and photography. Her hobbies are running and reading.