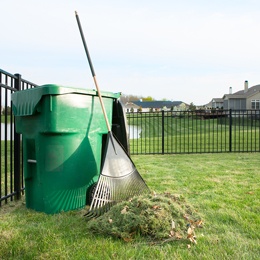 Mother Nature has been a bit slow in turning up the heat this spring; however, when she does, you'll probably start thinking about yard work and outdoor projects you want to accomplish this year.
Over the years, I've had the opportunity to work with Marv Wolf, West Bend's grounds supervisor for 23 years. Although Marv is now enjoying retirement, I collected some past blogs we worked on together before his retirement.
Now is the time to prune! This blog post focuses on two important areas.
Why pruning is important; and
Safety tips to follow if you decide to do your own pruning.
Four safety tips for fertilizing your lawn - This blog post focuses on:
Selecting the right application for your yard; and
Safety tips on storing and applying fertilizer.
If you have a large project on your list, it may be time to call in a landscape professional. Here are some things to keep in mind when looking for the right landscape contractor for your job.
Set a budget. It's wise to estimate project costs ahead of time. Your concept may not be in accord with your pocket book. By setting a budget, you'll be able to find the appropriate landscaper for the job. Since every landscaper prefers a certain job, it doesn't pay to call a landscaper who's interested in $25,000 jobs if yours is only $5,000.
Make sure the landscaper is properly insured. It's important to make sure the landscape professional can provide proof of workers' compensation and liability insurance. Workers' compensation insurance provides protection in case a worker is injured while doing a job on your property. Liability insurance protects your property. Never assume the landscape contractor has insurance. That assumption could cost you money in damages.
Ask for references. While you can do a lot of research on the internet, good old-fashioned references may be the safer way to go. Just because someone has a nice website page and photos, doesn't mean they're qualified to do the work. Affordable stock photos can be purchased by anyone.
Get it in writing. Having a written contract in place can put your mind at ease. Written contracts can identify:
Start and completion dates;
Scope of the work to be completed;
Pricing;
Payment schedule;
and
Contact information.
Check with the Better Business Bureau. Researching a contractor on the BBB's website can be very helpful. The BBB Business Review provides:
Contact information;
Description of the company;
Complaints;
Customer reviews;
BBB rating;
Number of years in business;
The type of work they do;
and
The management team
Go with your gut. As with anything in life, there are times when you get a feeling that something isn't right. If you experience that when meeting with a landscape contractor, don't ignore it. Remember, it's your home and your money. You want to enjoy your project when it's completed not look at it with regret.
Do you have any tips you'd like to share? I'd love to hear them; please share them in the box below.
Source:
http://www.daytondailynews.com/news/lifestyles/8-things-to-consider-when-hiring-a-landscaper/nqwNK/
This article is intended for general educational and illustrative purposes only and should not be construed to communicate legal or professional advice. Further, this article is not an offer to sell insurance. Please consult with your licensed insurance agent for specific coverage details and your insurance eligibility. All policies are subject to the terms, conditions, limitations, definitions, and exclusions contained therein.