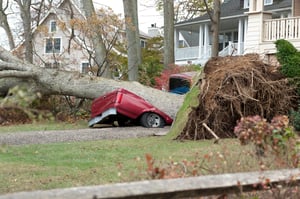 A common claim scenario that insureds deal with after a storm is fallen trees. High winds and saturated ground can create the perfect storm.
Once, heavy storms rolled through my sister-in-law's neighborhood. After the storm cleared, she inspected her property. What she found was a large branch from her tree extending into her neighbor's yard. Initially, she assumed her responsibility was to file a claim with her insurance company to cover the damages and removal. She quickly learned that this is a complicated situation, which can cause intense arguments between once-friendly neighbors.
Homeowners Insurance 101
A standard homeowners policy (basic form) typically protects you from the causes of loss (perils) listed below.
Fire and lightning
Smoke and explosions
Windstorms and hail
Volcanic eruptions
Falling objects (trees)
Theft or vandalism
Malicious mischief
Aircraft or vehicle damage
Snow, sleet, and ice
Below are some common questions and answers regarding how a standard homeowners policy may respond.
Q: Is it covered if my tree falls and damages my home or property?
A: Typically, a standard homeowners policy covers damage caused by a fallen tree if the cause of loss (peril) is wind. Covered property includes your home and other structures, such as a fence or shed. If a tree falls on your car and turns it into a Matchbox car, your auto policy will provide coverage if you have purchased comprehensive insurance.
Q: Is it covered if my neighbor's tree falls on my home or property?
A: This situation is where your relationship with your neighbor can sour. If your neighbor's tree falls on your property due to wind, you're responsible for the cleanup and contacting your insurance company to see if there's coverage for any damage sustained. If there's coverage for the damage, you're responsible for paying your deductible. The same would be true for your neighbors if your tree falls on their property.
Q: My neighbor caused the tree to fall. Am I still responsible for damage?
A: If you can prove that your neighbor's tree fell because it was diseased or dead, and they didn't do anything to prevent this, then they'd be responsible for your property damage due to negligence. In addition, if your neighbor cut down a tree and it fell and damaged your property, they would also be responsible for that.
Q: Do I have coverage for debris removal?
A: Depending on your policy, you may have coverage. The basic homeowners policy could pay up to $500 for the removal of any one tree and up to $1,000 for any one loss. Unless stated differently in the policy, your homeowners deductible would apply for this type of loss.
Some policies might specify that the tree must have damaged a covered structure or is blocking a driveway for debris removal coverage to apply. Some policies could provide coverage for tree debris removal regardless of whether or not there's other damage to property.
Q: Do I have coverage for damaged trees or shrubs?
A: Another portion of your policy could reveal coverage that would pay for damaged trees, shrubs, and other plants. It would list those perils for which coverage might apply.
So many variables can come into play when determining coverage. Please review your policy with your agent; they will be able to answer any questions you have about your coverages, or they can check with the carrier for you.
Do you have any suggestions or information you'd like to share? I'd love to hear from you. Please share them in the box below.
Sources:
https://www.iii.org/article/if-a-tree-falls-on-your-house-are-you-covered
https://www.naic.org/documents/consumer_guide_home.pdf

This article is intended for general educational and illustrative purposes only and should not be construed to communicate legal or professional advice. Further, this article is not an offer to sell insurance. Please consult with your licensed insurance agent for specific coverage details and your insurance eligibility. All policies are subject to the terms, conditions, limitations, definitions, and exclusions contained therein.