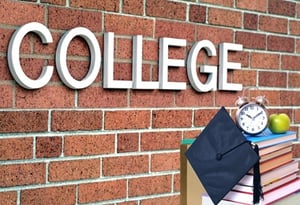 If you're sending your child off to college for their first year, it can be an emotional and overwhelming time in your life. You may experience a variety of feelings such as excitement, nervousness, and sadness.
However, by this point, classes have been chosen and roommates have been assigned. The only thing left is the big move-in date which could be interesting.
Here are some tips that can help you prepare for this new chapter in life.
1. Keep your emotions in check. On move-in day, there will be many emotions and probably some frustration. The dorm room may be arranged many times or the 55" inch TV won't fit. To make the move more productive and enjoyable, remain calm. If the day isn't picture perfect and doesn't go as planned, that's ok. Don't fret.
2. Understand what your insurance policy covers. Typically, the parents' homeowners' policy will cover property stolen away from home up to a limit of 10% of the contents coverage. For example, if the parents' home is insured for $100,000, the contents coverage would be $50,000 so the coverage for a student away at college would be $5,000, minus the policy's deductible.
The Home and Highway® policy, however, has no coverage restrictions in this situation as long as the student meets our definition of an "insured" which includes:
A student enrolled in school full time, as defined by the school, who was a resident of your household before moving out to attend school, provided the student is under the age of:
(1) 29 and your relative; or
(2) 24 and in your care…
and is temporarily residing off premise. Then the full property or blanket amount is extended, subject only to the perils of the policy and the Section I deductible.
In regards to your auto policy, please keep these items in mind.
If your student has a vehicle at college, it's important to contact your agent so your insurance company knows this. A vehicle is rated based on how it's used and in what city it's located.
A student who doesn't have a vehicle at college and is more than 100 miles from home, will benefit if a resident student rate is applied to the policy. Does your student qualify for this discount?
Even if a student doesn't have a vehicle at college, he/she must still be rated on the parents' auto policy because the student is still considered covered under the policy. This is especially important if the student drives an uninsured vehicle.
3. Create an inventory list. For the entire summer, my wife has been collecting items to send to college. These include health and beauty supplies, furniture, sheets, storage bins, etc.
Inventory what your student takes to college. If there's an insurance claim, the burden of proof lies with you so a list of items would be helpful and speed up the process.
4. Don't overlook safety. Whether your son or daughter is going to a large or small school, it's important to have a conversation about safety and protocols put in place by the school. Don't have the "it will never happen to my kid" mentality.
For example, texting, talking, or listening to music on a smartphone while walking is common today. However, it can have serious consequences. Like texting while driving, you lose track of your environment. Common accidents include:
Falling down stairs;
Tripping on curbs or cracks in the sidewalk;
Stepping into the path of a car or bicyclist; and
Becoming a victim to violent attacks.
5. Don't wear out your welcome. If you get the feeling your child wants you to leave, don't be offended. Remember, you probably already experienced this in middle school or high school, so this is nothing new. Consider it a sign that your child is comfortable and ready to experience college life.
6. Talk to others. If family or friends have gone through the process, talk to them. Pick their brains for ideas and even ask them for help on move-in day. My daughter's boyfriend and his parents have been very helpful. In fact, I'm not a handy person, so I'm relying on my daughter's boyfriend to help set up her bed and other things. To bunk the beds or not to bunk the beds, that is the question.
7. One last treat. If summer flew by and now you're panicking, relax. You still have time to spoil your son or daughter. Consider taking them to their favorite restaurant, a sporting event/concert, or giving them something simple like a nice picture. Kids cherish the simple things. Celebrate this new chapter in his or her life.
8. Enjoy quality time. It's amazing how fast time goes by. Moving forward, the time you spend together will be less. Social media, however, makes it easier to be a part of their lives while they're gone. A simple text or a funny Snap Chat message can brighten your day and theirs. If you don't understand social media, now may be the time for a "crash course."
In addition, when they do finally come home for a visit, make sure you spend quality time with them. House chores can wait. It's about quality, not quantity.
Do you have any tips you'd like to share? I'd love to hear them; please share them in the box below.
Sources:
http://www.foxnews.com/travel/2013/08/09/10-tips-to-survive-taking-your-first-child-to-college/
http://time.com/2855449/parents-kids-college-tips/
This article is intended for general educational and illustrative purposes only and should not be construed to communicate legal or professional advice. Further, this article is not an offer to sell insurance. Please consult with your licensed insurance agent for specific coverage details and your insurance eligibility. All policies are subject to the terms, conditions, limitations, definitions, and exclusions contained therein.