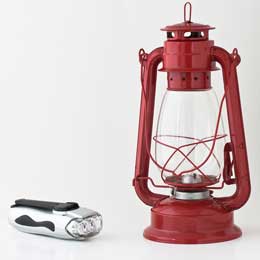 Severe storms containing high wind, hail, and lightning, can knock out power quickly. If this happens at your home, are you prepared?
Luckily for my family and me, we only lost power once for an extended period. Thanks to my collection of flashlights and the gas fireplace, we were fine. If it would have been out for a couple of days, however, we wouldn't have been as prepared.
Ready.gov shares many tips for being prepared before, during, and after a power outage. Here are some of the tips I think are important.
1. Use flashlights instead of candles. Candles are nice for a special dinner with family and friends. Candles used in emergencies, however, can be extremely dangerous. Putting candles in places where your family isn't used to having them can cause problems. A young child or an excited pet could knock them over. To learn more about candle safety, read "10 tips to help prevent candle fires in your home."
2. Do you know how to open your garage door manually? If the power goes out and you're late for work or an appointment, running out to your garage in a panic and not knowing how to open your garage door can make the situation worse. Practice disengaging your door on a nice calm day. This will help you become familiar with the process and help determine if you can open the door safely by yourself. If the door is too heavy, consider asking a family member or a neighbor for help.
Also, consider keeping a lockbox on your door with a key in it for your kids. My kids use the keypad to open my garage door. If the power is out, however, they won't be able to open it and will be locked out of the house. If your kids are older and can be trusted with a key, have additional copies made.
3. Never use a generator in your home. All too often, you hear of families who perished due to accidental carbon monoxide poisoning. Again, if you have a portable generator, practice using it on a nice day so when the power goes out, you don't panic.
4. Disconnect your electronics and appliances. If you can safely access the power cords on your big appliances, consider unplugging them. The same goes for your electronics. Power surges can cause damage.
5. Don't take a chance with unsafe food. If you experienced a power outage for several days, it's more than likely the food in your refrigerator and freezer is spoiled. Here are some good tips to help you decide what to do with your food.
6. Don't call 911 for updates. Remember 911 is for reporting life-threatening emergencies. Talk to your kids about this so they know when to call 911. To receive updates, listen to a portable radio, or if you have battery power left, use your smartphone to find information.
Do you have any safety tips? I'd love to hear them; please share them in the box below.