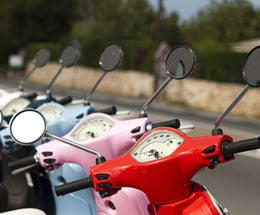 If you've ever been to a college town, it's common to see bicyclists and moped/scooter riders everywhere. Both forms of transportation make it easy and affordable for college kids to get around.
Back in my high school days, my Honda Spree moped was my main method of transportation to work in the summer and fall. The mileage was great; it cost less than a dollar to fill it up.
Some of the benefits of riding a moped include:
Getting around campus quicker;
Great gas mileage;
More available parking spots;
Affordable purchase price; and
Great way to enjoy nice weather.
Even though there are great benefits to riding a scooter, safety should be a number-one priority. Changing weather conditions, poor roads, and the inability for other drivers to see moped riders can lead to injuries.
If your college student is heading off to college this year with a moped, here are some safety tips.
1. Respect. The moped I rode was 50CC. Today, there are more options for engine size. No matter what size you get, show respect. Respect the vehicle, pedestrians, other traffic, and laws.
When riding on a moped, you may be tempted to weave in and out of traffic, avoid stopping, riding where you shouldn't, or popping wheelies. This type of riding can be dangerous and result in injury. Speaking from personal experience, it doesn't feel good when your body meets the pavement.
2. Wear the appropriate gear. Today there's no shortage of safety gear at many different price points. While you can rely on some things you already have, don't skimp on things like a quality helmet and eye protection.
Eyewear is very important, as well. This summer my family got into bicycling. It always drove me nuts when my wife and daughter rode with no eye protection. After a ride or two, I told them we weren't leaving until they had glasses on. At minimum glasses can keep bugs out of your eyes. Ultimately, they can protect you from severe eye damage. Everybody knows what a stone sounds like hitting your windshield. When on a moped or bike, your glasses are your windshield.
3. Consider taking a class. If you're a new rider, a class is a good idea. A class can provide a basic introduction to a moped and share driving tips.
If you live in Wisconsin, a trip to Road America may be of interest. Road America offers a basic rider course exclusively for scooters.
To find classes in your area, visit the Motorcycle Safety Foundation.
In order to operate a moped in Wisconsin, one must possess a valid driver's license of any class. To learn what your state requires, visit Digest of Motor Laws.
4. Pay attention to the weather. Always be aware of weather changes. Rain can make the pavement slippery. If you add leaves to the mix, pavement conditions can be extremely dangerous. Poor weather conditions can also make it difficult for other motorists to see you.
5. Sunrise and sunset. While sunrise and sunset can be beautiful, it can make it difficult for drivers to see you. Make sure your headlight, taillight, and directionals are working properly. As a bicyclist, I've learned that people don't always see me on sunny days. As a result, I use a bright headlight and taillight that can be seen during daylight hours.
Do you have any tips or information you'd like to share? I'd love to hear from you. Please share them in the box below.