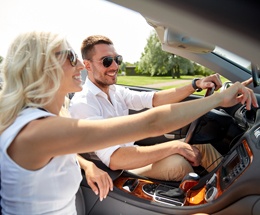 During the summer months, drivers face many different road conditions and driving situations. Weather patterns can change quickly, leading to heavy downpours and flooding. Summer vacations mean more cars on the road which can cause increased congestion and more incidents of road rage. Travelling through construction zones can be confusing and frustrating. Lastly, the weeks between Memorial Day and Labor Day are the most dangerous time of year for teen drivers.
These videos offer several tips to help you and your family safely navigate the roadways this summer.
The first video explains why Memorial to Labor Day is considered the "100 deadliest days" for teen drivers and offers tips to keep them safe. The second video offers tips to safely navigate construction zones and to reduce or prevent road rage.
For more resources to help you safely navigate through summer, visit these links.
Road America Teen Driving School – Sponsored by West Bend
Eleven tips to avoid or handle hydroplaning
Six tips for keeping your tires in shape so you can be safe
No more mistakes when replacing windshield wipers
Do you have any tips or information you'd like to share? I'd love to hear them; please share them in the box below.