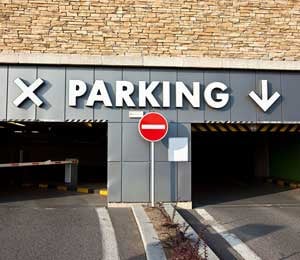 Holiday shopping means more congestion on our roadways and in the store parking lots. This increased congestion can lead to frustration, aggravation, and fender benders. In addition, the weather can wreak havoc on already-crowded parking lots, resulting in slips and falls and difficulty pushing a shopping cart or stroller.
Here are some safety tips to remember as you venture out this holiday season to find that perfect gift.
1. Park further away. If your family is like mine, they're always telling me to find the closest parking spot; if I don't, I hear about it. However, it may be wise to park further away from the store during this congested time of year. If you do this:
Backing out will be easier because there will be less car and pedestrian traffic.
You may be able to avoid unwanted door dings.
There's more space for you and your family to exit and enter the vehicle.
You can burn off a few extra calories, which isn't bad this time of year.
2. Light it up. Many cars today come with daytime running lights. If your car doesn't, turn on your headlights while in a parking lot or parking garage during the daylight hours. Turning your lights on makes it easier to be seen by other cars and pedestrians.

3. SUVs and minivans, oh my! If possible, be on the lookout for these vehicles. While you may find a close parking spot in between them, trying to back out after your shopping spree may be difficult.

4. Don't rely solely on backup cameras. While backup cameras are an excellent addition to cars, they only allow you to see what's directly behind you. Before backing out, you should still turn your head to survey the area around you. If it's clear, you can slowly back out, keeping an eye on the display. If you're traveling with friends or family, I would encourage you to ask them to keep an eye out. If the parking spot in front of you opens up, pull through. Unfortunately, I know people who have backed into things even with an audible alert and camera.

5. Pay attention to your surroundings. Before leaving your car or store, scan the area. Be on the lookout for anything that looks strange. In addition, keep an eye on the pavement. Watch for elevation changes or potholes that could cause you to slip and fall. If something feels wrong, ask store staff or security for assistance. Lastly, take out the earbuds and avoid texting or trying to make a phone call until you're safely in the store or your car. Distracted shoppers are easy targets for criminals.

6. Make eye contact. If you're using a pedestrian crossing at your favorite mall, make eye contact with the driver to make sure they see you and will allow you to cross. Even though pedestrians have the right of way, never assume drivers see you.
7. Inspect your car. Before entering your vehicle, peek in the back seat to ensure a stranger isn't waiting for you.
8. Wear appropriate clothing. Consider wearing lighter or reflective clothing and shoes with good traction.
9. Shop with a friend or family member. If you plan to shop until you drop, consider taking somebody with you. Carrying many bags or packages can make you an easy target. In addition, consider leaving small children at home or taking someone with you to help them safely navigate the parking lot. Trying to push a stroller, carrying packages, watching other kids and looking for car keys can be difficult and dangerous.
If you're involved in a car accident in a parking lot, and police aren't contacted, be sure to gather as much information as possible, including the name, phone number, address, and insurance information of the other driver(s), and the color, type, and license plate number of the vehicle(s). If there are witnesses, get their contact information, as well. And take photos, if possible, to avoid fraudulent claims later on.
Do you have any suggestions or information you'd like to share? I'd love to hear from you. Please share them in the box below.
Sources:
https://www.trustedchoice.com/content/2012/11/holiday-parking-lot-safety-tips/http://www.propertycasualty360.com/2014/12/04/biggest-hazard-of-holiday-shopping-the-parking-lot?ref=related-embedded&page_all=1