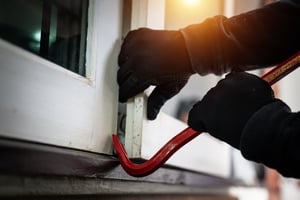 Burglars, injuries, health hazards, and natural disasters are just a few of the possible threats that could compromise the safety of your home. Considering many of us view our homes as a refuge away from the stress and dangers of the outside world, optimizing your living space to be well prepared for an emergency can help ensure it stays that way. It also never hurts to have a little bit more peace of mind.
Preparing for any emergency starts with research. Being aware of possible threats, and how to avoid them, is just as important as investing in protective equipment and resources. Here's more information on how to keep yourself and your family safe in your home.
Knowledge is Power
Unlike what many people believe, break-ins and burglaries aren't the biggest threats facing your home. According to the National Safety Council, preventable injury-related deaths in the home have increased by 62% over the past decade. While break-ins are certainly still a cause for concern, you don't want to put all your safety precautions into one basket.
Falls, mechanical suffocation, and poisoning are all leading causes of home injuries and deaths. Thankfully, you can help prevent many of these incidents by addressing common safety hazards in your home:
Trips and falls

: Keeping pathways clear of things like electrical cords and dog toys isn't just a matter of organization, it could save your life or that of a loved one. Installing handrails on stairs can also prevent serious falls and injuries. And it's a good idea to lay down anti-slip rugs in areas that get a lot of traffic.

Chemicals

: Several harmful chemicals can be overlooked inside the home. Items like paint and even personal grooming products can contain dangerous ingredients that can be extremely harmful if consumed. Take a quick assessment of your home to see if you have any hidden culprits laying around and then secure them away from children and pets.

Fire Hazards

: It isn't uncommon for the average household to have computers, TVs, and gaming consoles always plugged in. However, appliances and other technology can cause electrical fires. To prevent things like brownouts and fires, keep your electronics unplugged when not in use and replace any cords that are damaged or frayed.
We often feel the most comfortable at home, which means we can also become lax with our safety precautions. We also may miss potential threats due to our inexperience or lack of knowledge. While it may be impossible to prepare for everything, equipping yourself with as much know-how as possible can help fill in the cracks.
Cover Every Inch
Attics aren't only another potential break-in point for would-be burglars, but pests and other animals can make their way in and cause damage and even get you sick. It's also necessary to be extra careful when in areas high up or with little support. Attics are known for having a lot of other dangers such as exposed insulation, sharp nails sticking out from the roof decking, and low clearances.
Taking safety precautions should become a regular habit. When tackling projects in precarious rooms like the attic or basement, be sure you have the right equipment. It's worth investing in items like long-lasting light fixtures and tools, safety harnesses, and protective masks and eyewear. And of course, use your best judgment. Don't enter your attic or basement if you have any sort of concern in regard to wild animals or asbestos; instead, call a professional to resolve the issue.
Have an Escape Plan
One of the best ways to make your home safer is knowing how to escape it. Equipping our homes with fire and carbon monoxide detectors, security cameras, and digital locks are all important steps in preventing injury and break-ins. However, the second part of surviving most home emergency incidents is getting away from danger if necessary. It's essential for every household to have a fire evacuation plan and to practice it regularly. Keeping important documents like passports and medical history in one secure place is important if you ever have to flee your home at a moment's notice due to a natural disaster. You may also get separated from your family during an emergency, so having a meet-up spot planned ahead of time can keep everyone safe and accounted for.
The safety of you and your family is understandably a major priority. Optimizing your home to be more secure and equipped to handle any curveball can make a big difference in regard to home safety.
Author Bio: Noah Rue is a journalist and content writer, fascinated with the intersection between global health, personal wellness, and modern technology. When he isn't searching out his next great writing opportunity, Noah likes to shut off his devices and head to the mountains to disconnect.