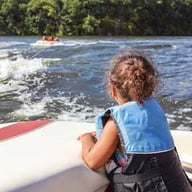 Is your boat out of storage? Maybe you bought a new watercraft? Now that boating season is here, it's important to make sure your investment is properly protected before you take it out on the water.
Kim Bechler, West Bend's senior underwriter, explains what you should consider when deciding how to best insure your boat.
On West Bend's Home and Highway® policy, there are two ways to insure your boat with Physical Damage coverage: 1. agreed value and 2. actual cash value. Agreed value is typically available for boats 10 years old or newer. The value of the boat is verified and agreed upon by the insured and the insurance carrier. If there's a total loss to the boat, the insurance carrier would pay the amount that was agreed to when the boat was insured on the policy.

Actual cash value is the replacement value of the boat minus depreciation. If you choose this method, you should review the value of your boat each year and adjust it on your insurance policy. This way the premium you pay reflects the boat's current value rather than an inflated value, saving you money.

If your boat is older, you may not want to include Physical Damage coverage on your policy; however, because you could still be liable for damage to someone else's property or injury/harm to another person, it's best to include/keep Liability coverage. West Bend's Home and Highway policy provides automatic Liability coverage for:
All outboard boats regardless of the horsepower;
Inboard/outdrives if they're 50hp or less (except personal watercraft such as jet skis, jet boats, or wave runners); and
Sailboats less than 26 feet in length.
Talk to your independent insurance agent to find out if your policy includes Watercraft Liability coverage. If not, you may wish to add it.
If you choose to include Uninsured, Underinsured, Fuel Spill, and Wreck Removal coverages on your Home and Highway policy, the Watercraft Liability form must be added even if Liability coverage was automatically included on your policy.
When reviewing your policy, another item to consider is the deductible. Most insurers offer deductible options. With a higher deductible, you assume more risk which means you'll pay more if there's a loss. At the same time, however, it will reduce your premium.
With advice from your insurance agent, you can rest assured you're protecting your investment from an unforeseen loss. Enjoy your peace of mind and your summer on the water!
This article is intended for general educational and illustrative purposes only and should not be construed to communicate legal or professional advice. Further, this article is not an offer to sell insurance. Please consult with your licensed insurance agent for specific coverage details and your insurance eligibility. All policies are subject to the terms, conditions, limitations, definitions, and exclusions contained therein.