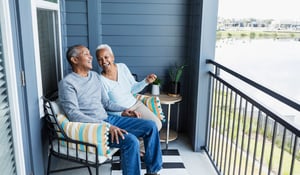 If you live in a condo or a home with a homeowner's association (HOA), your insurance policy may offer you coverage for loss assessment. Loss assessment coverage is a unique type of insurance coverage, so let's review how it works.
Members of an HOA are typically considered co-owners of buildings and common areas, along with all the other homeowners in the association. As such, if your building or a common area is damaged by a direct loss to the property, you're likely financially responsible for your portion (the assessment) of the repairs. Let's say high winds damage your building during a strong storm. In addition, your HOA's pool sustains damage from the same storm. As a homeowner, you're responsible for paying your portion of the cost of repairs to both your building and the pool.
That's where loss assessment coverage comes in. Loss assessment coverage can help you with the out-of-pocket expenses you may be required to pay, providing you with the coverage you may need if repairs to specific property must be made. No deductible applies to loss assessment claims. Some insurance policies include a specific limit for loss assessment, for instance, $5,000, and have an option to add additional coverage to increase this limit.
An essential item to consider is that Loss Assessment coverage is only provided if the peril for which it's being assessed would have been a covered peril for that same type of loss. For example, a basic policy doesn't cover underground service line damage or water backup/sump pump overflow. If you were assessed for damages from one of these perils, your basic policy wouldn't provide coverage for the assessment. If you purchased the optional coverages for underground service line and water backup/sump pump overflow, the loss assessment coverage would apply up to the loss assessment limit of your policy.
Here's an example of how this works. You purchased a minimum limit of $5,000 Water Backup/Sump Pump Overflow coverage and $50,000 Loss Assessment coverage. A common area suffers a significant water backup loss, which is now a covered peril on your policy because you purchased the coverage. The amount assessed for your portion of the loss is $25,000. Because you have water backup/sump pump overflow coverage on your basic policy and purchased $50,000 in Loss Assessment coverage, the $25,000 assessed for this loss would be covered under your Loss Assessment coverage.
In addition, an aggregate limit applies to the entire policy period. So, if there are several covered losses during the policy period, the policy will only provide coverage up to that aggregate limit. A typical aggregate limit is $5,000. If you purchase additional coverage, the aggregate limit is increased to the new Total Limit of Liability for Loss Assessment shown on your policy. Insurance doesn't cover any losses that occur after the aggregate limit is exhausted.
Unlike most other property claims, a loss assessment claim doesn't occur on the date the property was damaged. The claim date will be the date the actual assessment is charged against you as the owner or co-owner of the property. And for coverage to apply, the loss assessment date must occur during the policy period.
If you'd like to learn more about the benefits of this coverage or if you have questions about the amount of loss assessment coverage you may need, please contact your independent agent.
Do you have any suggestions or information you'd like to share? I'd love to hear from you. Please share them in the box below.
This article was written by Theresa Meyer, Personal Lines underwriter. This article is intended for general educational and illustrative purposes only and should not be construed to communicate legal or professional advice. Further, this article is not an offer to sell insurance. Please consult with your licensed insurance agent for specific coverage details and your insurance eligibility. All policies are subject to the terms, conditions, limitations, definitions, and exclusions contained therein.