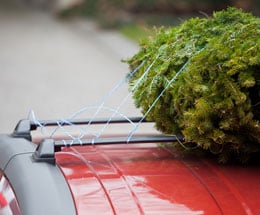 With the Thanksgiving feast behind us, it's time for many people to start decorating their homes for Christmas. This year, the above-average fall temperatures here in Wisconsin inspired many homeowners to light up their yards and homes with Christmas decorations. My neighborhood is definitely more decorated than in past years.
Picking out the perfect Christmas tree is a holiday tradition families pass on through the generations. In fact, when I was a child, my family made the cover of the Fond du Lac Reporter newspaper.
Getting that perfect tree home safely, however, can be a bit tricky. Here are some tips to make sure your tree doesn't damage your car or hurt others.
1. Measure before you leave. Before venturing out to find just the right tree, you should determine where the tree will be placed in your home. Measure the distance across the space so you have an idea of how big the tree's circumference can be. You should also measure the distance from the stand to the ceiling.
Once you have a measurement for inside your home, apply those measurements to your car. Maybe your home can handle a large tree, but if your vehicle can't, you'll have to downsize.
When you arrive at the tree farm or lot, apply the measurements to the tree(s) you like. They'll definitely look smaller in the open space.
2. Purchase the appropriate supplies. If this is your first time buying a real tree, you'll need some supplies:
A blanket or tarp for inside your car or on your roof rack;
The appropriate straps, i.e. bungee cords, rope, or ratchet straps;
Appropriate clothing; and
Appropriate tools and a pair of safety glasses.
You may also want to consider taking some bottled water and snacks.

3. Take a practice run. Once you have your supplies, practice using them. Identify how you'll attach the straps to your vehicle. Ratchet straps work great for securing items, but are made of metal and are bulky. If not attached correctly, they could damage your car.

4. Bring along Santa's helpers. If this is a new adventure for your family, make sure someone can help you harvest and load the tree. If you have young children, your spouse may be attending to their needs and may be unable to help so take your baby sitter or another adult to help.

5. Wrap it. If the tree farm or lot can net the tree before you leave, take advantage of this service. It will make your tree more manageable. It will also reduce wind resistance and result in less damage to the tree. If netting isn't available, wrap it in a blanket or tarp.

6. Always double check. Once the tree is attached, double check everything to make sure it's secure. The last thing you want is for your tree to get wings and land on someone else's car.

7. Direction of the tree. Make sure the tree is attached with the tree stump facing forward.

Here's a video that shows how to tie a tree on your car with rope.

Tie a Christmas tree to your vehicle

Do you have any tips or information you'd like to share? I'd love to hear them; please share them in the box below.

Source:
http://www.propertycasualty360.com/2015/12/08/9-tips-to-get-your-christmas-tree-home-safely-with?page_all=1&slreturn=1480349322
https://www.cars.com/articles/protect-your-car-with-our-christmas-tree-transporting-tips-1420682711765/