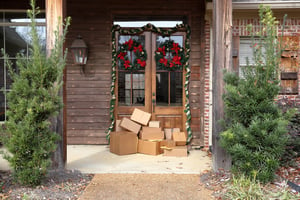 Online shopping has increased significantly. UPS, Fed EX, and Amazon trucks drive through my neighborhood regularly. With holiday shopping, it's getting even busier.
While online shopping does provide convenience, boxes left outside your front door can be stolen. Now more than ever, thieves may be watching your neighborhood for packages. If you want to protect your packages this holiday season, here are some tips.
1. Check into locker systems. Amazon and delivery services like UPS, Fed Ex, and the United States Postal Service (USPS) have unique locker systems. They're in department stores, convenience stores, gyms, pharmacies, and other businesses that want to participate. When I searched my area, I was amazed at the number of locations available. Once your package is delivered, special instructions will be sent to access the locker.
In addition, the Amazon Hub Counter uses local businesses that can serve as a drop-off point. Then whenever you get a chance, you can pick up your package during their hours of operation.
2. Install a video doorbell. Before I moved into our new home, I didn't understand the benefits of a video doorbell. As part of our new home security package, I had one installed. I love it. Whenever there's activity at the front door, I get a notification on my smartphone and watch. Since many packages are being delivered to our home, I can have my daughter get them off the porch quickly. In addition to the notification, it takes a short video every time there's motion. While it encourages funny behaviors from my family and friends, it could be helpful if I ever needed to review the footage.

3. Install an outdoor security camera. An outdoor camera provides more protection than a video doorbell because it can monitor a larger area. In addition, live streams and alerts can help you identify unusual activity at your home. Lastly, their physical presence can help deter a would-be burglar.
Like all products, security cameras have many different features. Features include:
Two-way audio
Night vision
An easy-to-use app
Degrees of mobility
Make sure you identify what's important to you before buying one.
4. Update your mailbox. If you have a regular mailbox, now may be the time to upgrade to one that can be used to secure your packages. Based on your needs for the box, several companies provide various options. No matter what you select, make sure the United States Postal Service approves them.
5. Give Key by Amazon a try. This service by Amazon allows packages to be delivered inside your garage, home, or car. Package protection, contactless delivery, and optional camera integration are just a few of the benefits of this service.
6. Insure your holiday packages. Because package thefts increase around the holidays, it may be wise to insure your packages this time of year. Then if your package is stolen, you can be reimbursed for your loss.

7. Give curbside pickup a try. Many stores now offer curbside pickup. This is an excellent way to keep packages off your porch, especially if the items are expensive. Once your package is ready for pickup, you'll be notified. A courteous associate will put your package right in your trunk.

Do you have any suggestions or information you'd like to share? I'd love to hear them. Please share them in the box below.