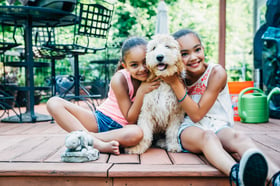 If you have a deck, you know how harsh Mother Nature can be. Hot sun, pouring rain, ice, and snow take their toll. A newly painted or stained deck may already need touch up the following year.

The average life expectancy of a wooden deck is 10 to 15 years. However, if you properly maintain it, you may get many more years of enjoyment. In addition, a properly maintained deck can prevent injuries from occurring.

Here are some things that may indicate it's time to repair or replace your deck:





1. Rotted wood.

If you notice a soft spot on your deck, that's a good indicator the wood beneath has rotted. Use a screwdriver to poke through soft spots to get an idea of what's going on. Last fall, I did that and ended up replacing several boards.



2. Loose floorboards.

It's common for floorboards to crack due to weather. This doesn't necessarily mean that something is wrong. However, if you notice loose floorboards when you walk on your deck, it may be time for a new board. Wood around the screws may have rotted causing the boards to loosen. If you see boards that are bowed and not flat, consider replacing them as it could cause someone to trip and fall.



3. Wobbly railings.

Railings are important because they can prevent you from accidentally falling off the edge of your deck. If you have stairs, railings help people safely climb them. If you find wobbly railings make sure to fix them right away to prevent serious injury.



4. Deteriorated posts.

Deck posts are typically attached to your concrete footings and help secure your railings. They're usually very durable. On my deck, I found the floor around them was rotten, so I replaced several floorboards. The posts were fine. However, if you have several posts that are damaged, this is another repair that should be made quickly.



5. Insect damage.

If gone undetected, insects can cause significant damage to your wooden deck. Here are the ones to watch out for.


Termites. They like to eat wood and products that contain cellulose which includes outdoor carpets. They cause more than five billion dollars of property damage each year.
Carpenter bees. They cause structural damage by drilling into wood and building tunnels.
Carpenter ants. These are the big black ants you may see roaming around on your deck. I had no idea they were destructive. Their goal is to destroy wood so they can build nests.
Here are some things that may indicate your deck is infested with bugs:
You can visibly see them.
Wood shavings on the ground
Spongy deck boards
Hollow wood sounds
Sunken wood
Rot
To avoid significant damage, contact your local pest control expert for assistance.



If it's time to replace your deck, here are some materials to consider:





1. Pressure-treated lumber.

This type of lumber is commonly used for building decks. It's treated with chemicals that help prevent wood rot and insect infestations. Be sure to let this wood weather before painting or staining.



2. Cedar wood. Cedar is popular because of its beauty. In addition, it's lightweight and extremely strong. However, a cedar deck requires a significant amount of maintenance to keep it looking nice.

3. Composite decking. This decking is created by combining wood fibers and plastics. The end result is a durable deck that can last up to 25 years with very minimal maintenance.

4. Plastic lumber. This decking material is 100% plastic. It's more environmentally friendly and requires even less maintenance than composite decking. It can last anywhere from 20-50 years.

5. Aluminum. Prefinished aluminum is very strong and weatherproof. It's also resistant to rot, rust, and insects. There are a variety of color choices and it contains a slip-resistant coating.

If repair costs quickly start to add up, it may be time for a new deck.

Do you have any information or tips you'd like to share? I'd love to hear your thoughts; please share them in the box below.

Source:


https://www.americanpestpros.com/what-do-you-need-to-know-about-deck-destroying-pests