The holiday season is filled with festive cheer (i.e., food and drinks). In addition, our homes are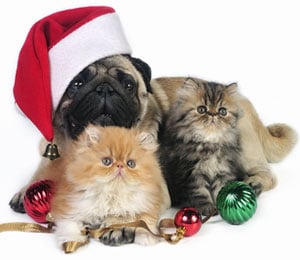 beautifully decorated. While this is a special time of year, it's important to remember to keep our pets healthy and safe.
Here are some tips to keep your pet(s) healthy and safe this holiday season.
Keep food away from pets. Veterinarians treat many pets for digestive issues at this time of year. While it may be hard to say no to your adorable pet(s) when they're looking for a holiday treat, it's important to say no. Chocolate and table scraps that are high in fat can be very toxic. Some table scraps, such as bones, can even be deadly. Leftover bones are hollow on the inside, can break off, and get lodged in your pet's esophagus. If you see your guests feeding your pet table scraps, kindly ask them to stop. Non-pet owners may not be aware of the dangers.


Decorations are beautiful but… Many homes are decorated from top to bottom. While ornament hooks are a necessity and tinsel looks beautiful on the tree, they're dangerous to pets. If you find a leftover hook or tinsel on the floor, make sure you pick it up immediately. In addition, if you have young pets that like to chew, hide electrical cords or tape them down. Finally, keep candles off low tables to prevent them from being knocked over.


After dinner walk. While roads may be clear of snow and ice, sidewalks may not. Pay attention to your surroundings if taking your pet for a walk to work off your food coma. If you're going to walk in the street, make sure you wear reflective gear and walk against the traffic flow.


To grandmother's house, we go. From Thanksgiving to Christmas, people are on the move. The Humane Society of the United States has written an article titled, "Travel Safely with Your Pet by Car, Airplane, Ship, or Train". If you're taking a long trip this holiday season, you may find this article helpful.


Be aware of holiday stress. The holidays can become a bit overwhelming. Presents need to be wrapped, dinner menus planned, and the house cleaned. While our stress levels tend to go down once these tasks are completed, your pet's stress level can increase. A house full of family and friends, loud noises, and music can cause pets to become stressed and act out of sorts. If your pets get stressed, consider keeping them in a quiet, calm place during the party and check on them periodically.


Love your pet. With the holiday hustle and bustle, don't forget to pay attention to your pet(s). They're loyal companions who still yearn for your love and affection, as well as a walk in the park, playing catch, or other activities that are an important part of their lives.

And don't forget to buy your pet a present or two. Here's a link to popular toys.
Do you have any tips you'd like to share? I'd love to hear them; please share them in the box below.