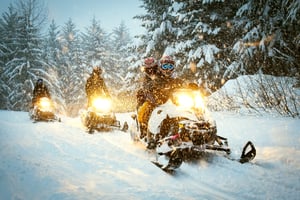 Snowmobiling is a thrilling and fun hobby to enjoy during the winter season. It's a great way to satisfy your need for speed and enjoy the outdoors and beauty of Mother Nature.
Unfortunately, each year many people are seriously injured or killed while snowmobiling. Whether you're an experienced rider or this is your first season riding, here's some information to keep you safe and make your ride more enjoyable.
Understand your state laws and regulations
While you may think you can just jump on a snowmobile and go, that's not the case. Many states have laws and regulations that must be followed. For example, your state might have an age restriction for children or require you to register your snowmobile and buy a trail pass.
In addition, like our roadways, there are specific laws and signs that you should be familiar with and obey when riding on the trails. Here's a copy of the Wisconsin Trail Signing Handbook.
To make sure you're up to date, consider contacting your local:
Department of Natural Resources
Law enforcement agencies
Snowmobile dealer
Snowmobile club
Snowmobile safety tips
1. Enroll in a snowmobile safety course. When I took my snowmobile safety course, several sessions were held in a live classroom, followed by an actual driving test. I remember hoping and praying that my snowmobile wouldn't break down during the test. Today, online courses are available. If you're new to snowmobiling, consider taking a class before venturing out on the trails. Safety courses will teach you:
Parts of a snowmobile
How snowmobiles operate
Riding skills
Troubleshooting
How to handle trail emergencies
Hazards to avoid
Laws and regulations
Click here for a list of courses in your state.
2. Keep an eye on your local weather forecast. Because snowmobiling is an outdoor sport, it's important to be aware of the weather where you'll be riding. Snow blindness, whiteouts, windchills, and sun glare can make riding difficult and unsafe. If these conditions occur, staying home and riding on a different day may be best. Another benefit of checking the weather is to help you choose proper clothing. Lastly, always wear glasses or goggles to protect your eyes from the sun.
3. Stay in shape. Snowmobiling is a lot of fun, but it's also physically demanding. Like many physical activities, snowmobiling can use muscles you didn't know you had. Staying in shape can help prevent injuries. To see what exercises you can do, click here.
4. Use your eyes. Your eyes should be used for more than just sightseeing while riding. Like driving a car or motorcycle, moving your eyes can help you identify hazards well in advance. Identifying hazards in advance can help you decide and implement a plan of action to keep you safe.
6. Don't ride with small children. Speed and rough trail conditions can make it difficult for passengers to hang on. This is especially true for young children. I remember my brother and I always falling off our parents' snowmobiles. Fortunately, our snowmobiles weren't fast, so we didn't suffer any injuries. The American Academy of Pediatrics recommends not riding with children six or younger.
7. Stay on groomed trails. If you're new to riding, consider staying on groomed or maintained trails. While groomed trails can still be rough, it's less likely you'll hit foreign objects. If you ride in thick, powdery snow, there's no way to know what's underneath it.
8. Use proper hand signals. Other riders need to know what you're thinking and where you want to go. Here are some hand signals to remember.
Stop – Raise your left arm straight up keeping an open palm.
Left turn – Raise your left arm and hold it straight out from your body keeping an open palm.
Right turn – Raise your left arm and hold it straight out from your body. Then bend your arm upward at your elbow forming a 90-degree angle keeping an open palm.
Slow down – Raise your left arm and then point and move it in a downward direction.
9. Follow trail etiquette. It's vital that all riders have an enjoyable and safe ride. Make sure you ride in a legal and courteous way. Avoid trail rage or doing something foolish that could injure you or others.
10. Respect yourself and the machine. Understand what you and the snowmobile are capable of and don't try going beyond those capabilities. Speed kills! A poor decision can have significant consequences.
Avoiding common injuries
Common snowmobiling injuries include fractures, lacerations and contusions, concussions, and drowning. Here are a few reminders to help prevent these injuries.
Maintain a safe speed to avoid losing control and hitting a tree or other objects as well as to prevent you or your passenger from falling off.
Avoid driving on lakes and rivers. Ice thickness can change quickly. Once you fall in, it isn't easy to get out.
Please be sure to use caution when loading and unloading a snowmobile.
Don't drink and drive.
Insurance coverage – recreational vehicles
Don't forget to talk to your insurance agent about what insurance coverages may be available. An insurance policy may include:
Collision coverage
Bodily injury liability coverage
Property damage liability coverage
Comprehensive coverage
Do you have any suggestions or information you'd like to share? I'd love to hear from you. Please share them in the box below.
Source:
https://www.aap.org/en-us/about-the-aap/aap-press-room/news-features-and-safety-tips/Pages/AAP-Safe-Winter-Sports-and-Activities.aspx
This article is intended for general educational and illustrative purposes only and should not be construed to communicate legal or professional advice. Further, this article is not an offer to sell insurance. Please consult with your licensed insurance agent for specific coverage details and your insurance eligibility. All policies are subject to the terms, conditions, limitations, definitions, and exclusions contained therein.