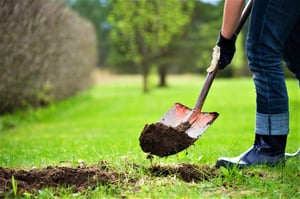 If the spring weather has motivated you to do some DIY projects in your yard, it's best to think through your project before jumping into it. Common projects include:
Installing a mailbox
Planting a tree, shrub, or flowers
Creating a garden
Building a fence
Building a deck or patio
Installing an invisible fence for your pet
Installing a pole for a basketball hoop
If one of these projects is on your list, you shouldn't just grab your shovel and start digging. Because my dad was an electrician in Wisconsin, I understand this. It was his mission to inform people about the importance of calling Diggers Hotline before doing any of the DIY projects mentioned above.
This is so important because buried underneath the dirt and grass in your yard are utility lines. These utility lines are for services to your home which include electric, gas, water, sewer, cable TV, and telephone. Digging up or damaging one of these lines could put you in harm's way or create unnecessary and expensive repairs.
No matter how big or small your project is, state law may require you to contact your local call center. Each state has its own call center to answer your questions. While each call center will have a different name, it's very simple to get in touch with them. Just dial 811 and you'll be connected to your local call center. After you talk to them, they'll contact your local utility companies. Within a few days, utility employees will be dispatched to your home. Once at your home, they'll mark your underground utility lines with spray paint or flags. Until the markings are made, don't dig.
Here's what the different colors mean:
White – Proposed excavation
Pink – Temporary survey markings
Red – Electric power lines, cables, conduit, and lighting cables
Yellow – Gas, oil, steam, petroleum, or gaseous materials
Orange – Communication, alarm or signal lines, cables, or conduit
Blue – Water
Purple – Reclaimed water, irrigation, and slurry lines
Green – Sewers and drain lines

When it comes time to start digging, here some tips to keep you safe:
Stretch. Digging requires bending, twisting, and engaging muscles you might not know you had. Make sure you take a few minutes to stretch and warm up before you begin your work.
Use the appropriate equipment. Again, think about your project before digging. This will ensure you have the appropriate hand tools or rental equipment required for the job.
Don't move a utility line. Even with the appropriate markings, there's a chance you could hit a line. If that's the case, stop digging and don't attempt to move it.
Call 911. If you accidentally hit a line causing damage that can be life-threatening, stop digging, and call 911 immediately.
Make sure your contractor has insurance. If you plan on hiring a contractor for your excavation project, make sure they have the proper insurance. Also, make sure they're bonded. Bonding protects you if they fail to complete a job or fail to meet other financial obligations, such as paying for damage they've caused to your property.
Do you have any tips or information you'd like to share? I'd love to hear them; please share them in the box below.



Source:
http://call811.com/

https://www.apwa.net/Library/Resources/Uniform-Color-Code.pdf

This article is intended for general educational and illustrative purposes only and should not be construed to communicate legal or professional advice. Further, this article is not an offer to sell insurance. Please consult with your licensed insurance agent for specific coverage details and your insurance eligibility. All policies are subject to the terms, conditions, limitations, definitions, and exclusions contained therein.