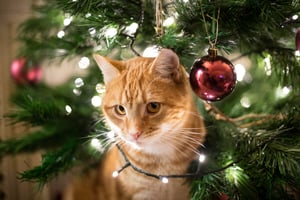 Since my dad was an electrician, I have a decent understanding of how electricity works. However, every year when I put up and plug in my Christmas lights, I feel like I'm constantly bending the rules. Are lights really going to cause a fire if I plug in more than I should? Understanding basic safety tips can keep you and your family safe this holiday season.
Safety Tips
1. Turn them off. If you're leaving your home to run errands or going to bed, it's a good idea to turn off your lights. According to the National Fire Protection Association (NFPA), 40% of Christmas tree fires are caused by lights. Timers, remotes, and smart outlets can make turning off your lights easier!

2. Buy the appropriate lights for your intended use. Before you buy your new lights, please check to see if they can be used indoors, outdoors, or both. Indoor lights should never be used outside. Brutal winter weather can cause damage and increase the risk of fire or bodily injury.

3. Use the right extension cord. Like your lights, extension cords are rated for indoor or outdoor use. Indoor cords should never be used outside in the elements.

4. Don't overload your lights. Always refer to the manufacturer's instructions about how many strings of lights can be plugged together in a single outlet. Too many strings could cause them to overheat. Using a power strip with a circuit breaker is a good idea. If the power strip's circuit breaker begins to detect heat, it will shut down.

5. Plug your outdoor lights into a GFCI outlet. A ground fault circuit interrupter provides valuable protection for your home. If you're putting up lights outside your home this year, plug them into a GFCI outlet. If the outlet detects wet conditions, it will automatically shut off the power to your lights to prevent electric shock. Inside your home, GFCI outlets can be found in your bathroom or kitchen. If you have an older home and don't have one, call a licensed electrician to install some.

6. Get rid of your old lights. Incandescent lights can last four to six years. If you've been using them longer than that, buying new ones may be a good idea.

7. Keep your outdoor lights dry. In the past, I've always wrapped my connections with electrical tape and covered them with a plastic bag to keep them dry. The problem is that, at the end of the season, it's cumbersome to take everything apart. Try using a protective plastic cover. Simply plug your lights together and close the cover. This can help prevent electrical shock, tripped outlets, or strands of lights from going out. Never leave exposed plugs on the ground.

8. Take them down. Usually, in January, we experience a slight increase in the temperate. You can use this to your advantage and take down your lights. Lights left up for a significant period can be damaged by inclement weather.

9. Secure loose cords. If your light display looks like the Griswold's and you have cords running all over your yard, use ground staples to secure them. If you have long cords in your home, tape them down to prevent trip and falls.

10. Protect your lights against pet damage. If your pet likes to chew on electrical cords, look for ways to prevent this. I use a bitter apple spray to prevent my cat Toulouse from chewing our cords.

11. Practice ladder safety. If you're getting ready to hang your light or are putting up your Christmas tree, check out these ladder safety tips.

12. Don't use nails, screws, or staples. Use light clips or other fasters instead to prevent damage and injury.
Do you have any tips or information you'd like to share? I'd love to hear them; please share them in the box below.