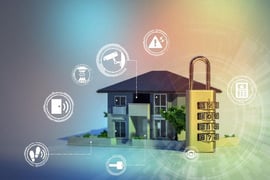 Smart home technology use is a rising trend. From connected appliances to Wi-Fi lightbulbs to automated environmental controls, smart home devices are wooing homeowners with the capabilities to remotely control and monitor their home from anywhere.
After all, smart technology can inform you when your kids get home from school. It can alert you to a burst pipe before the damage gets out of control. It can save you money and time. Unfortunately, all that connectedness brings along some concerns. Your privacy and security may be at risk.
The very definition of a smart home is that there are features that can be controlled via an app or other remote access portal, like a website. This typically requires an internet connection, so that your home devices are accessible from afar. But the minute you can access a device from the internet, someone else can, too. Here's how to protect yourself from the risk of hacking.
Read the Fine Print
Not all security and privacy concerns result from illegal activity. Each time you use a website or app, or sign up for a connected service or product, you agree to their terms and conditions. Read and understand the fine print, which typically includes a privacy policy, and don't be afraid to pass on services that don't take your privacy seriously.
Secure Your Home Network
Your home network is the gateway to your house. Take the time to set it up properly and ask for help if you don't know how. Always change default usernames and passwords to something that isn't easy to guess. Turn on encryption so sensitive information is hidden from snooping eyes.
Pay Attention to Passwords
No matter how hard they may be for you to remember, secure passwords are essential. Avoid obvious passwords like pet names, birthdays, kids' names or phone numbers. It's also important to change passwords regularly in case they have been compromised.
Know Your Stuff
Some devices literally record your voice or your image, while others record things like your schedule and shopping habits. All of these activities could become risks to your privacy and security. Take the time to understand how each device in your home works. When is it recording information? Is this information being sent to the manufacturer or accessible only to you? Are there visual clues or prompts that show when recording in on? What does it record? And what does the information it's capturing tell others about your life? Know how to disable devices when necessary and find out if it's possible to delete your personal records.
Make Smart Choices About Your Smart Home
As fun as it may seem to have your whole house connected, it's also important to make smart choices. Weigh the benefits of having devices such as security cameras and voice assistants. They can offer more convenience and even security to your life. But they're only worth it if they're secure. Use brands and a service provider you trust. Here are other tips:
Purchase a smart home security service or devices that can alert you to suspicious activities.
Bundle your home security and smart home automation capabilities offered by home security companies or your cable provider. They have experts who can professionally install the equipment and be on call for tech support. They also offer a lot of the bells and whistles that people enjoy in their smart homes.
Although smart home tech use is on the rise, we're still in the early stages of adoption. As popularity increases, we will start to see more security holes and breaches. While we can't predict where those will fall, it's best to be prepared with knowledge of the available security measures. A little bit of thought and planning can protect all your connected home devices and give you peace of mind along the way.
Author Bio: Christy Matte is a mom of two and a Boston-based writer who covers home security for XFINITY Home. She is also a die-hard techie who blogs at QuirkyFusion.com.