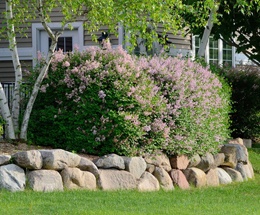 Picture this. You're outside in your yard enjoying a beautiful spring day. As you feel the warm, gentle wind start to get a little stronger, you notice dark clouds approaching. Now the trees begin to sway with the strong gusts of wind. Before you know it, you hear loud crackling sounds and some of the trees in your yard snap and hit the ground. The storm quickly passes, but leaves a trail of damage behind. This blog will explain what your insurance policy may cover.
You call your insurance agent to see if you have any coverage for the damage. You may be surprised to find that under the "Additional Coverages" section of your policy, the cost to remove trees and debris that fall due to a windstorm, hail, or even the weight of ice or snow, could be covered. The basic homeowner's policy could pay up to $500 for the removal of any one tree and up to $1,000 for any one loss. Unless stated differently in the policy, your homeowner's deductible would apply to this type of loss.
Some policies might specify that the tree must have damaged a covered structure or is blocking a driveway in order for debris removal coverage to apply. Some policies could provide coverage for tree debris removal regardless of whether or not there's other damage to property.
Another portion of your policy could reveal coverage that would pay for damaged trees, shrubs, and other plants. It would list those perils for which coverage might apply, like fire or lightning, explosion, riot or civil commotion, aircraft, vehicle damage (other than your own vehicles), vandalism or malicious mischief, or even theft. Usually there's a specific limit of coverage for any one tree, shrub, or plant, or maybe a percentage of your home's value would apply.
So many variables can come into play when determining if you have coverage and exactly what that coverage would be. Review your policy with your agent; he or she will be able to answer any questions you have about your coverages, or can check with the company on your behalf. This is one of the advantages to having an independent agent working for you.
Do you have any tips you'd like to share? I'd love to hear them. Please share them in the box below.
This article is intended for general educational and illustrative purposes only and should not be construed to communicate legal or professional advice. Further, this article is not an offer to sell insurance. Please consult with your licensed insurance agent for specific coverage details and your insurance eligibility. All policies are subject to the terms, conditions, limitations, definitions, and exclusions contained therein.