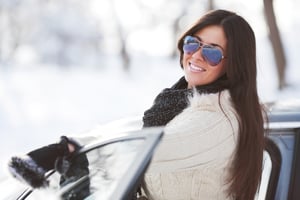 Unfortunately, every year when the first snowfall arrives, it's common to see cars sliding through intersections or into ditches. It seems like that first snowfall catches many drivers off guard. If this is your first winter with a teen driver, it may be even more stressful. Winter driving requires patience and skill. To acquire the appropriate skill necessary to stay safe takes practice.
This blog will discuss:
Winter driving facts
Common winter accidents and insurance
Ways to keep your teen drivers safe
Winter Driving Facts and Stats
Seventeen percent of all vehicle crashes occur during snowy conditions.
Approximately 70% of U.S. roads are in areas that receive annual snowfall.
Each year, about 116,000 people are injured on snowy or icy roads.
Stopping your car on snow and ice can take 6 to 10 times longer.
In heavy snow, freeway speeds should be reduced by as much as 40%.
Four-wheel and all-wheel drive vehicles don't stop quicker than other vehicles.
Winter car accidents and insurance
Poor road conditions have a significant impact on how your car handles. Add poor visibility, and winter driving can be extremely dangerous. If your teen driver damages your car or another person's property, it's important to make sure you have the right insurance coverage and adequate limits to pay for damages.
If your teen slides through an intersection or into a ditch, here's how different types of insurance coverage may apply.
Auto Liability insurance covers injury or property damage caused to a third party.
Collision insurance provides coverage for damage to your teen's car.
Medical payments or Personal Injury Protection (PIP) provides coverage for injuries sustained by anyone in the car driven by your teen.
Towing coverage may be provided through your insurance policy. If it's not, I'd recommend adding it. The benefit of this coverage is that no money needs to be paid to the towing company at the time of the accident.
Ways to keep your teen drivers safe
To help your teens excel and stay safe driving this winter, enrolling them in a winter driving school may be just what they need. Road America's Winter Driving School sponsored by West Bend, allows teen drivers to practice winter driving in a safe environment.
The instructors at Road America teach techniques for handling different winter driving conditions. Those techniques include:
Skid control and prevention
Braking with ABS and without
Collision avoidance maneuvers
Proper vision skills
If you don't have a winter driving school near you, make sure you talk to your teen about winter driving or check out the helpful videos below.
Tips for Safe Winter Driving – Winter Driving Hazards & Cornering Overview
Essential Winter Driving Tips – Consumer Reports

Winter Driving Tips You Need to Know

Everything You Need to Know About Driving In The Snow

Do you have any suggestions and or information like to share? I'd love to hear from you. Please share them in the box below.
Source:
https://www.highways.org/wp-content/uploads/2014/02/Brochure-FINAL-LoRes.pdf
https://driving-tests.org/driving-statistics/
This article is intended for general educational and illustrative purposes only and should not be construed to communicate legal or professional advice. Further, this article is not an offer to sell insurance. Please consult with your licensed insurance agent for specific coverage details and your insurance eligibility. All policies are subject to the terms, conditions, limitations, definitions, and exclusions contained therein.