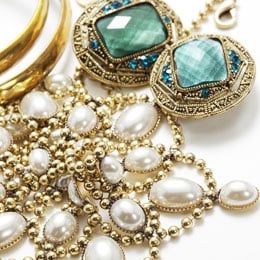 Our homeowner's policies are very important because they provide coverage for our personal property. Did you know, however, that there are some limitations to that coverage? Did you also know that if you have a loss, there's a good chance you'll be responsible for paying your deductible?
Most homeowner's policies carry coverage limitations on personal property like jewelry, silverware, firearms, etc. Unless your property is scheduled, or specifically itemized with a value on your policy, your home deductible will apply to a loss. Many people choose higher deductibles to reduce their premiums. If you're one of them, it's possible you may not receive a payment if your deductible is more than the amount of the loss.

This example illustrates. Let's say your young son accidentally breaks a $400 lamp by knocking it off the end table. If you carry a $500 home deductible, your insurance won't pay to replace the lamp since the amount of the loss is less than your deductible.
If you have a large jewelry collection, and only one item is lost or misplaced, your insurance may not pay for the replacement of that item, again, because your deductible exceeds the value of that one item. If several items are lost, however, your insurance may pay to replace some of them.
Talk to your insurance agent. You may be able to schedule jewelry items at a nominal premium charge with no deductible. You may also have the choice of scheduling them on a replacement cost basis or an agreed value basis. Do you know the difference?
Replacement Cost Coverage: Your insurance company may pay the cost to repair or replace the damaged or lost property without factoring in depreciation; however, the amount paid will not exceed the least of these amounts:
1. Replacement cost at the time of loss;
2. The full cost of repair at the time of loss; or
3. The amount of insurance that applies to the property as shown on the declarations page of your policy.
Agreed Value Coverage: For each item designated on your policy as having agreed value coverage, the full amount shown is paid. The amount is agreed to be the value of that article or property.
You may also have the option to insure some personal property on a blanket coverage basis. In that case, your insurance company will pay the replacement cost at the time of the loss, but not more than the individual coverage amount for any single item of insured property.
Several types of property can be scheduled specifically (with no deductible, and/or broader coverage). This includes cameras, collectibles, coins, fine arts (prints, paintings, sculptures, etc.), furs, golf equipment, musical instruments, silverware, sports equipment, and stamps.
The advantages of scheduling specific items are that you have broader coverage without a deductible.
Be sure to talk to your independent insurance agent to determine if you have the best coverage for your personal property.
This article is intended for general educational and illustrative purposes only and should not be construed to communicate legal or professional advice. Further, this article is not an offer to sell insurance. Please consult with your licensed insurance agent for specific coverage details and your insurance eligibility. All policies are subject to the terms, conditions, limitations, definitions, and exclusions contained therein.