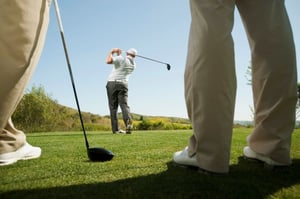 Golf is a sport that has captured the hearts of millions of people around the world. Its multifaceted experience keeps people coming back for more. Plus, golf offers many benefits, such as:


Physical activity
Social interaction
Relaxation
Life-long learning
Of course, there are always insurance implications. Here are some common claim scenarios that might result after a day on the golf course.



Claim Scenario One

You return to your car after a fantastic day on the golf course with your friends. When you arrive, you notice that your windshield is damaged and a golf ball is next to your car. You look around for a note or witnesses but find none. Now you start wondering, is the damage covered by my insurance policy? The answer is that it depends. If you have comprehensive coverage on your auto insurance policy, then it would be covered. Comprehensive coverage (other than collision) covers damage from fire, vandalism, or falling objects. You may be subject to a deductible. If you only have collision coverage, you'll have to pay for the repairs out of your pocket.

Claim Scenario Two

After enjoying a round of golf on a beautiful Sunday afternoon, you return to your car to find your windshield destroyed. It's so bad; you can't drive your car home. You look around for clues but find none. Thankfully, your insurance policy provides comprehensive coverage and roadside assistance coverage so you can have your car towed to your local auto glass repair center.

Claim Scenario Three

After spending the day on the golf course for a charity event, you return to your car to find your windshield damaged. While studying the damage, you see your old neighbor Scott approaching. He says he misses talking golf with you on your patio and mentions that one of his errant driving range balls hit and damaged your windshield. His insurance company will cover the cost of repairs under his homeowners insurance policy if their investigation determines he was negligent.

Claim Scenario Four

After one of your worst rounds of golf, you're walking by the driving range back to your car. Out of nowhere, a golf ball hits the pavement, bounces up, and hits you in the leg. You instantly fall to the ground in pain. Members of the course rush to your aid and Scott, the person who hit the errant golf ball. You decide to drive to the hospital for an examination. As luck would have it, you only have a large bruise and no other injuries. The silver lining is that Scott has medical payments coverage on his homeowners policy to pay for your medical bill.

This blog covers some claims scenarios that may occur when you're at the golf course. However, please understand that if a baseball, basketball, golf ball, soccer ball, or football causes damage to your car (e.g., broken glass or dents), insurance coverage may apply as referenced above.

Do you have any suggestions or information you'd like to share? I'd love to hear from you. Please share them in the box below.

This article is intended for general educational and illustrative purposes only and should not be construed to communicate legal or professional advice. Further, this article is not an offer to sell insurance. Please consult with your licensed insurance agent for specific coverage details and your insurance eligibility. All policies are subject to the terms, conditions, limitations, definitions, and exclusions contained therein.