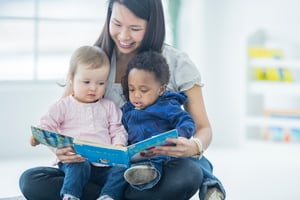 The first five years of a child's development provide a good foundation for long-term academic and social benefits so choosing a quality daycare provider for your child is very important. This blog will offer tips for parents when choosing a daycare provider, as well as tips for in-home daycare providers.
Parents:
There are many factors to consider when choosing an in-home daycare service.
You should first determine if the state requires the provider to have a license. Each state sets a limit on the number of children a provider may care for before a license is required. Be sure to find out what your state requires. Ask the provider how many children are cared for in the home and if the provider is properly licensed if necessary.
The provider should also have proper insurance. Sometimes this coverage is provided on a homeowner's policy. If the daycare provider will be transporting your child in their personal vehicle, it's also important to make sure they have the proper auto insurance, as well as appropriate and safe car seats.
Here are other things you should review with the provider before making your decision:
Make sure the provider is trained in first aid and child/infant CPR.
Make sure the provider keeps important medical information, including children's allergies, doctors' phone numbers, etc.
Provide written consent for your child's emergency medical care or treatment.
Only authorized persons will be allowed to pick up your child.
Make sure the home is equipped with fire extinguishers and smoke detectors.
Outside play areas should be in good condition with proper safety features.
If there's a swimming area, it should be fenced and locked.
The home should be childproofed, including:


Window blind pull stings are looped up and out of reach.
Cribs are placed out of reach of windows and window treatments.
Stairs are blocked off by stair gates.
Changing tables and high chairs have straps to secure children.
Outlet covers are firmly in place.
The toys are clean and in good condition.
Potentially toxic substances are secured out of reach of children.
Providers:
As with parents, it's vital that you know how many children you may care for before a license is required. Check with your state's authorities.
The proper insurance for your home and operation, as well as for any vehicles in which you may transport children, is also vital. Be sure to talk to your insurance agent to determine if you have coverage, if you need to add it to your policy, or if you need to purchase an additional policy.
Make sure your home is properly childproofed.
Be sure to obtain important information for each child, including medical information and consent, and the names of people who are authorized to pick up each child.
Check the local YMCA or Red Cross in your area to see if they provide babysitting classes, first aid/CPR, and/or other classes that offer certifications related to childcare.
If you have more than three persons, you will need a separate business policy.
For parents, choosing the right daycare provider is one of the most important decisions they'll ever make. For providers, caring for children is rewarding and enjoyable. Making sure the children are in a safe environment gives both parent and provider peace of mind.
For additional information, visit our Culture of Safety blogs below.
Choosing the Right Childcare: Understanding State Licensing Reports

Choosing the Right Childcare: Staff Ratios
Do you have any tips or information you'd like to share? I'd love to hear from you. Please share them in the box below.
This blog was written by Kim Bechler, senior Personal Lines underwriter.