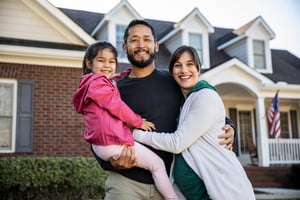 In a nutshell, a home warranty is a policy a homeowner can purchase to cover the cost of repairing or replacing many home appliances or systems if they break down. Home warranties provide a level of financial protection to homeowners who might encounter unexpected issues with their major devices and installations.
If you're thinking about purchasing a home warranty, here are answers to some of the questions you may have.
What Does a Home Warranty Normally Cover?
Each home warranty company offers different plans. In general, though, a standard home warranty will cover major appliances and systems. These include kitchen and laundry appliances; heating, ventilation, and air-conditioning (HVAC), electrical, and plumbing systems; and many other key units.
What's the Replacement Policy?
If the broken appliance or system is covered under your warranty plan, the technician will try to fix it on the spot. The home warranty company may provide the cash payment for the repair cost. However, once determined that the covered item is irreparable or not cost-effective to repair, the item may be replaced instead. The replacement product will have similar capacity and primary functionality.
What's Not Covered in a Home Warranty?
A home warranty plan only covers those household appliances and systems that have been specifically mentioned as covered in the service contract. The agreement won't cover appliance or system failures that occur because of neglect, natural disasters, accidents, theft, or other crimes.
Is a Home Warranty Similar to Homeowners Insurance?
No. A home warranty covers appliances and systems in both brand new and pre-owned houses. Many home warranty providers offer three kinds of plans: appliance plans, system plans, and plans that include both. Most companies will let you add coverage for specific items not included in their standard packages for an extra fee. Some of the common add-ons are additional appliances, septic systems, and pools, among others.
A homeowners insurance policy, on the other hand, is a kind of property insurance that'll protect you against damages and losses due to covered disasters and perils. These often include fire or lightning, hail or windstorms, explosions, theft, falling objects, and more.
A standard homeowners insurance policy usually covers the structure of the home and your personal belongings. It also provides liability protection against lawsuits for property damage or injuries you or your family member may have caused to other people. And it can include additional living expenses to pay for accommodation and meals should your home become uninhabitable because of a covered peril. West Bend doesn't provide home warranties.
How Much Does a Home Warranty Cost?
The cost for a home warranty is based on two types of fees. The first is a monthly or annual fee. This is the amount you pay periodically to access claims service for discounted repair or replacement service calls. You may pay anywhere between $350 and $1,100 per year. This largely depends on the plan you bought and where you reside.
The second is known as the service fee. This is the cost you pay each time you request repairs for a covered item. Most home warranty companies offer several levels of service fees. They can range from $55 to $150 per service call. This amount varies from one company to another. Generally speaking, the higher the service call fee, the lower your monthly or annual fee will be, and vice versa.
What Can Potentially Cause Denial of Claims?
There are several reasons why your home warranty company may deny your claims. These include pre-existing conditions, unusual wear and tear, lack of maintenance, improper installation, code violations, and a few others.
Many people purchase a home warranty plan (if one is not offered by the seller) with a one-year term upon closing on a home. A warranty plan can provide some reassurance and much-needed peace of mind that you won't be burdened with sudden, out-of-pocket expenses as soon as you move into your new home. For example, imagine what a bummer it would be to wake up one morning to a broken fridge, leaking water heater, or dripping plumbing fixture in your home. A home warranty can help lessen those woes, which for many people is worth every penny.
For more information on home warranties, go to Review Home Warranties to see reviews on some of the best available options.
What Are Some Common Home Warranty Scams?
For more information on home warranty scams, click here.
Do you have any tips or information you'd like to share? I'd love to hear them; please share them in the box below.
This article is intended for general educational and illustrative purposes only and should not be construed to communicate legal or professional advice. Further, this article is not an offer to sell insurance. Please consult with your licensed insurance agent for specific coverage details and your insurance eligibility. All policies are subject to the terms, conditions, limitations, definitions, and exclusions contained therein.