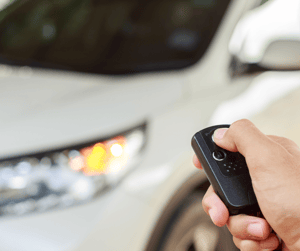 Getting into a cold car can be uncomfortable. In addition, howling winds and blowing snow can make driving your car stressful. Fortunately, there are many things you can do to make both situations more tolerable.
If you recently received a remote starter for your car as a Christmas gift or are thinking about getting one, here's some helpful information.
Benefits
There are many benefits of having a remote starter installed on your car, including:
No more shivering in a cold car when you leave home to run an errand.
If your defrost is turned on ahead of time, it can make cleaning your windshield much easier.
When loading them in the car, it creates a warmer environment for your kids or pets.
It can help you find your car in a busy parking lot.
It can also be used in the summer months to cool your car.
Selecting the perfect remote starter
Here are some things to consider before making your purchase:
1. Start range.
When it comes to remote start, you may think that all you must do is push the button, and you're good to go. Unfortunately, that's not the case. The efficiency of your system depends on what's around your car and where you're attempting to start it from. Buildings, trees, and busy streets can have an impact. A unit may have a range of anywhere from 500 to 3,000 feet. The higher the range, the better it'll work for you.
2. Compatibility.
Knowing if the system you're interested in will work efficiently with your car is critical. Be sure to do your research ahead of time to ensure you won't have issues after installation. We all know car trouble is never fun!

3. Number of key fobs.
If you're sharing your car with other family members, you may need more than two key fobs. Make sure additional fobs can be purchased and added to your system.

4. Engine kill.
This feature adds extra security by allowing you to turn off your car. That's a great feature if you're running late.

5. Smartphone compatibility.
A remote starter that works with your smartphone may integrate additional functionality into your system.

6. Know your options.
If you just want to start your car, then a basic system may be for you. However, you'll need a more advanced system to do other things with it, such as turn on your heated seats or open your trunk.

7. Consider professional installation.
While professional installation can cost more, their expertise and knowledge of cars can make your system run more efficiently. And if you make a mistake during installation, it could cost you even more if it causes damage to your car.

8. Don't focus on price.
Don't start the process just by looking at the price tags of remote starters. Take everything I mentioned into consideration before deciding. You'll be happier in the long run.
Safety Tips
1. Don't forget to open your garage door.
Because of carbon monoxide, starting your car in an enclosed garage can have deadly consequences. Be sure to open your door before starting the car.

2. Keep track of your key fob.
Have you ever walked out to your car and found its doors are locked, and you didn't lock them? It's common for key fobs to get pushed if they're in your pocket or cramped spaces such as a purse or gym bag. Being more cognizant can help prevent you from accidentally starting your car.

3. Don't let your car idle too long.
The most efficient way to warm your car is to drive it gently. After a minute or two, you should be ready to go, especially if you have heated seats.

4. Keep your doors locked.
Have you ever walked away from your car only to wonder if you locked its doors? Because remote start key fobs have an extended range, you can ease your mind by just pushing a button.

5. Keep your pets at home.
Many remote starters include a safety feature that will turn off your car after an extended period. So, depending on the season, if you rely on your car to keep your pets warm or cool, it may be safest to leave them at home.
Do you have any suggestions or information you'd like to share? I'd love to hear from you. Please share them in the box below.