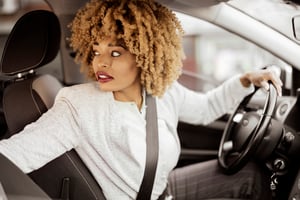 As the amount of daylight decreases, it's vital that we adjust our driving habits. Driving in darkness can make routine driving maneuvers more difficult. One of those maneuvers is backing up your car. While new vehicles have backup cameras and other technology that can assist, you shouldn't rely solely on them. Blind spots and the extra hours of darkness can be dangerous for pedestrians.
Whether you're a veteran or a new driver, here are some tips that can help you navigate this darker time of year:
1. Turn your head.
Before backup cameras and sensors, the only way to safely back up your car was to place your right arm on the passenger seat and turn your head and shoulders to the right to look out your back window. This is still an excellent procedure to follow. While the backup camera is a great tool, it shouldn't be relied on exclusively.
2. Check your blind spots.
Every car, big or small, has blind spots. Knowing where yours are can help you when backing up. It's these areas where you'll need to pay extra attention. To find yours, have a friend or family member position themselves in different locations around your car.
3. Check your surroundings.
Whether backing out of your driveway or a parking spot at your local grocery store, the environment around you can change quickly. When walking to your car, take note of what's happening. Are your neighbor's children playing in their yard? Could they run into your driveway to get their ball? Are people fighting for parking spots and doing aggressive maneuvers? Or is there a light pole directly behind your car. Having an awareness of what's happening around you already makes you a better driver.
4. Ask for help.
Big vehicles have more significant blind spots. Ask your family or friends for help when backing out. An extra set of eyes can help tremendously.
5. Take your time.
Being in a rush can cause you to ignore your surroundings and cause you to make poor decisions. Don't worry about if someone is waiting for your parking spot or if you're running behind for an appointment. A few extra seconds of caution can prevent a tragic accident.
6. Use extra caution in bad weather.
Heavy rain or snow can impair visibility. Be sure to turn your head a few additional times to ensure you see everything. Backup cameras may be covered with water or snow rendering them useless.
7. Practice reverse parking.
Depending on the situation, reverse parking may be a better option, especially in high pedestrian areas. Reverse parking allows you to back into a parking spot and then allows you to pull straight out when it's time to leave. This provides an overall better line of site. The downside to reverse parking is if you need access to your hatchback or trunk. This technique makes loading or unloading things more difficult.
8. Practice pull-through parking.
This technique allows you to pull into and drive through a parking spot. The problem comes into play if you and another driver have the same idea. Always use caution when practicing this maneuver as well.
Do you have any suggestions or information you'd like to share? I'd love to hear from you. Please share them in the box below.