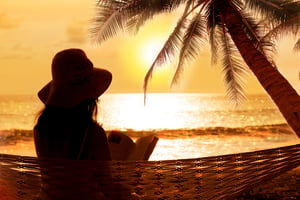 Traveling, whether it's for work or leisure, can be pricey. When you're going on vacation with friends or family or visiting a client for business, you should always do your research beforehand. This can help you to be prepared to balance costs and experience. Luckily, there are a few things you can do to help cut down on the expenses from your trip. To save a few extra bucks, check out our tips below.
1. Plan in advance
One of the best things you can do to save money while traveling is to plan ahead. This will give you time to do some research on where to stay, what company to fly with, or which route to travel. You can also take some time to price check other third-party options for booking like Priceline and Expedia.
If you're planning a vacation for the family or yourself, research the best times of year to travel. Factors like airline ticket pricing and weather can be helpful to know ahead of time to avoid spending a lot of money on a trip that may disappoint.
2. Pack smartly
When it comes to packing, there's a lot to remember. From clothes to electronics to toiletries, it can be easy to forget to pack the most important items. When it comes to showering and grooming items, take note that small stores located around tourist attractions normally have higher prices due to high demand. Remembering to bring the necessities from home can save you a lot of money. Packing things like new portable razors, toothbrushes, shampoo, and conditioners will save you from purchasing them at the hotel gift shop.
Another smart tip is to be mindful of what clothes you want to bring and how many you can fit. Be selective in your wardrobe and be smart about how you pack, because baggage fees at airports can add up. Try rolling clothes to fit more into your suitcase and limiting your options of footwear so you don't have to fill many bags on your journey.
3. Try hostels or low-cost hotels
Much like planning ahead to purchase a flight, you should also consider planning ahead to book your lodging. It's no secret that hotels can set you back a couple of hundred bucks per night and can be a quick way to drain your wallet, especially if you're going to a touristy location. For a more budgeted stay, especially if you're traveling overseas, look into hostels, which are shared living spaces with other guests. Not only are these a great way to save some cash, they're also great places to meet like-minded travelers, learn more about the area you're staying, and get recommendations on the best things to do while you're in town.
On the other hand, if you decide to go the hotel route, try to find your cheapest options. Think about how you're going to use your room. Will you spend the majority of your time there or just mainly be there for sleeping? Also, will you use amenities like a pool area or fitness room that can often increase prices? Keeping all these things in mind is key to getting a good bang for your buck.
4. Look for free activities
If you put your mind to it, there are surely tons of free activities in your destination. Do some research or ask the front desk at your hotel or locals about the best free things to do, as these can often be the most fun and rewarding experiences. Whether it be walking around the city on a self-guided tour or finding a free museum to spend the day, there are definitely tons of great opportunities out there, so don't be afraid to ask!
5. Be smart with food
As you travel, it can be hard not to spend a lot of money on food. Trying new restaurants and coffee shops is intriguing, but it can cost you a pretty penny. There's nothing wrong with spending money on meals, however, try implementing habits like packing snacks for when you're on the go or storing up some food in your hotel room to avoid late-night cravings and unnecessary purchases. If the place you're staying has a kitchen, that's even better. It's all about finding the balance between splurging and snacking.
As you begin to think about your travel plans alongside your finances, start prioritizing needs versus wants. The trip you want to have versus the trip you can afford to have may be quite different, but through preparation and organization, you'll be able to find an enjoyable middle ground.
Do you have any tips you'd like to share? I'd love to hear them; please share them in the box below.