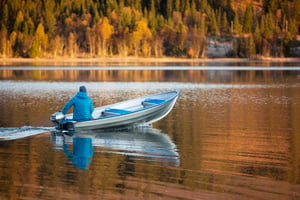 For many, Labor Day signals the end of summer. However, summer doesn't officially end this year until September 23. If you've made the most of the nice weather, now may be the time to start thinking about storing your boat for the winter. Whether you're a new boat owner or a seasoned veteran, storing your boat properly during the winter months ensures it'll be ready to go when the nice, warm weather returns.
According to Josh, West Bend claims manager, boat damage claims tend to increase during the off season. Damage may be noticed for the first time once the boat is removed from the water. Or, improper storage during the winter months could lead to expensive damages.
Here are a few claims scenarios that explain how insurance coverage may or may not apply.
Claim Scenario 1
Since it's the end of the boating season you decide to cover and store your boat and trailer next to your cottage. In April, a strong thunderstorm blows through your area that produces large hail. The hail causes significant damage to your boat. Do you have coverage?
In this scenario, if you don't have a special property form and your boat is not scheduled on the policy and it's not stored in a building, there would be no coverage for wind or hail damage.
Claim Scenario 2
At the end of the boating season, you buy a new boat on clearance for $20,000. You contact your agent and schedule the boat on your policy for $20,000. By scheduling your boat, you have all risk coverage unless a specific cause of loss is excluded. If your boat is parked in your garage at your cottage and a fire breaks out and destroys it, you'd have the full $20,000 coverage. If you didn't schedule the boat, you'd only have $1,500 coverage on the homeowners policy.
Claim Scenario 3
Your boat is scheduled on your policy for $20,000. Because your boat is scheduled, you have all risk coverage unless a specific cause of loss is excluded. In spring, you remove your boat from storage and realize mice have chewed up wires resulting in $5,000 in damage. Unfortunately, rodent damage is excluded from the policy so there's no coverage.
Claim Scenario 4
Your boat is scheduled on your policy for $20,000. Because your boat is scheduled, you have all risk coverage unless a specific cause of loss is excluded. In the spring, you put your boat in the water and the motor doesn't start. Your local mechanic explains that the water was not properly drained from the motor prior to storing it for winter. As a result, the frozen water caused damage to your motor. Unfortunately, the damage from freezing isn't covered.
Unfortunately, there are several reasons why people may not schedule their boats.
They feel the boat isn't worth much.
They don't think about adding coverage.
They want to keep their premiums lower.
They assume their policy provides automatic coverage.
To make sure your boat is adequately covered, contact your insurance agent to discuss the policy options that are available to you. Scheduling your boat for a specific value will ensure you have adequate coverage when a covered claim occurs.
Proper storage and maintenance are important to keep your boat protected while in winter storage.
Here are some tips for storing your boat.
Remove your battery. Because of inconsistent use during the summer months, your boat battery may not be fully charged each time you use it. The problem is compounded if you leave it in your boat while it's stored for the winter. More than likely your battery will be dead when spring arrives. It's a good idea to remove your battery and store it in a warm dry place. Consider using a trickle charger to keep your battery in good shape during the winter months.
Drain excess water from your boat. Make sure to remove the bilge drain to empty water from your boat. Cracked hulls as a result of freezing aren't covered by an insurance policy.
Drain excess water from your motor. This step can be confusing and a bit tricky. However, it's very important that it's done correctly. Frozen water can damage your motor, as well as other components. This damage isn't covered by insurance. Consider taking your boat to a local boat dealer to have it winterized.
Top it off. Make sure your gas tank is full prior to storing. Also, add a gas stabilizer to prevent moisture.
Repair your hull. Your boat can take a beating during the boating season. If your hull was damaged, get it repaired prior to storing it. This ensures the damage won't get worse and your boat will be ready for use when nice weather returns.
Inspect your trailer. So often I come upon cars pulling trailers and the lights aren't working properly. At the end of each season, make sure your brake lights and directionals are functional.
Remove electronics and gear. Most insurance policies provide coverage for theft. However, to avoid filing a claim, remove electronics and fishing gear from the boat prior to storage. Storing the gear in your home is a better alternative.
Cover your boat. Covering your boat with a properly fitting cover can protect it from dirt, dust, and moisture. It also prevents rodents from getting into your boat and causing damage.
Keep rodents out. As mentioned earlier, rodent damage isn't covered by an insurance policy. If you're storing your boat in your garage, consider setting up mouse traps to catch them before they enter your boat. Also, consider placing moth balls or scented laundry fabric sheets strategically around the boat to keep rodents out. If your boat is damaged by a racoon, a West Bend policy will provide coverage.
Check your boat occasionally. If you have access to your boat, consider checking on it occasionally. Look for animal droppings or gnaw marks which may indicate a problem.
Do you have any tips you'd like to share? I'd love to hear your thoughts; please share them in the box below.
This article is intended for general educational and illustrative purposes only and should not be construed to communicate legal or professional advice. Further, this article is not an offer to sell insurance. Please consult with your licensed insurance agent for specific coverage details and your insurance eligibility. All policies are subject to the terms, conditions, limitations, definitions, and exclusions contained therein.