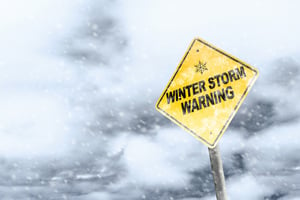 Living in an area that experiences cold and snow this time of year may feel like a routine nuisance. Drive times increase as well as our heating bills. And scraping the ice and snow off the car is never fun.
Unfortunately, many people are injured or killed yearly by exposure to cold, motor vehicle accidents, improper use of heaters, and carbon monoxide poisoning. To keep you and your family safe this winter, I'll explain the different types of weather terminology and safety tips for surviving Mother Nature's winter weather.
Technology allows meteorologists to identify weather events well before they strike. While the storm track can change several times, it's still important to understand the different watches, advisories, and warnings that may affect your area. To find out what they mean in your state, click here.
Watches
Advisories
Warnings
Winter Storm Watch – Severe winter conditions (i.e., snow or ice) may affect your area. A threat to life or property is possible.
Winter Weather Advisory – One or more events may occur.
• Snow
• Freezing rain
• Sleet
Winter Storm Warning – One or more events will occur.
• Snow
• Ice
Blizzard Watch – The weather system will create poor visibility with winds at least 35 mph.
Wind Chill Advisory – Seasonably cold wind chill values will occur and could cause frostbite or hypothermia.
Ice Storm Warning – Significant and potentially damaging accumulation of ice.
Wind Chill Watch – Dangerous wind chill values are possible.
Blizzard Warning – Blizzard conditions include poor visibility (less than ¼ mile) and winds at a minimum of 35 mph lasting at least 3 hours.
Wind Chill Warning – Extremely dangerous wind chill values will occur. Frostbite and hypothermia can happen in a matter of minutes. Outdoor activity should be limited.
Here are some tips for managing the cold and snow when it affects your area.
Home Tips
Prevent freezing pipes.

Burst pipes can lead to significant water damage in your home. Insulation is vital for pipes that are exposed and likely to freeze. For additional prevention tips, click here.
Keep your furnaces intake and exhaust pipes clear of snow. In newer homes, your furnace exhaust is vented out the side of your home. To find them, look for white or black pipes that exit a wall near your furnace. Then, go outside to find them. The exhaust pipe will point upward, and the intake pipe will point downward. If snow is blocking your intake pipe, the furnace will shut down and won't restart until the snow is removed. If your exhaust pipe is partially clogged, it could cause carbon monoxide to fill your home.
Check your roof. If your area experiences accumulations of dry snow, your roof should be ok. However, heavy snow that builds up could cause damage. If that's the case, consider buying a roof rake to remove the snow. To prevent injury or damage to your roof, never go on the roof in winter to shovel.
Keep extra supplies on hand. Make sure you have an adequate supply of items such as batteries, flashlights, water, and medications. If your area frequently loses power, consider having a portable generator professionally installed. Never run a generator in your home.
Driving Tips
Be safe after an accident. If you're involved in an accident, stay in your car. While it may be instinctual to get out of your car and survey the damage, don't. It's safer to remain in your vehicle and to wait until help arrives.
Avoid using cruise control. Never use cruise control when driving in snow. The slippery surface can cause your tires to lose traction, resulting in an out-of-control spin.
Understand your brakes. If your car has ABS (anti-lock braking system), you should press on the brake pedal and not let off. The purpose of the ABS is to prevent the wheels from locking in an emergency. By preventing the wheels from locking, you can continue to steer the car safely. Never pump ABS brakes.
Bring extra supplies. Keep blankets and snack foods, such as energy bars, nuts, raisins, and water, in your car all winter. And don't forget to bring your medications.
Heating tips
Follow the three feet rule. Keep flammable materials at least three feet away from fireplaces, wood stoves, and space heaters.
Directly plug into a wall outlet. Never plug a space heater into an extension cord or power strip.
Use a mesh screen. Use a large mesh screen in front of your fireplace to prevent sparks from landing on the floor.
Keep an eye on young children and pets. Both are very inquisitive. Turning your back for a split second could lead to an injury.
Avoid using appliances as a heat source. Never use a gas or charcoal grill or oven to heat your home.
Do you have any suggestions or information you'd like to share? I'd love to hear from you. Please share them in the box below.
Source: https://www.weather.gov/