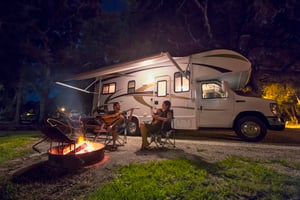 Taking a road trip in an RV is a great way for families to spend quality time together during the summer. With the COVID-19 pandemic, people are looking to avoid crowds. Therefore, RV rentals have increased astronomically.
If you're a rookie, driving an RV requires skill. It's unlikely you'll be able to just drive away without practicing and learning new driving techniques. If you're a veteran, and own your RV, you know a successful and safe trip takes preparation and planning. The last thing anyone wants is to be stranded thousands of miles from home and unprepared.
Whether you're a rookie looking to rent an RV or a veteran RV owner, here are some tips for you may find helpful.
RV Types
There are many different types of RVs you can purchase or rent. Selecting the right type for your family depends on what you want to use it for and your budget. If you're looking for a simple weekend getaway, a pop-up camper may be for you. If you want to spend several months traveling, and want to enjoy the comforts of home, a Class A motorhome will meet your needs.
Pop-Up – This lightweight camper is great if you have a smaller vehicle and you're looking for an easy camping experience. Because they pop up and down, you can see clearly behind you while driving. These campers sleep four to six people.
Truck Camper – If you have a large pickup truck, this camper may be for you. This type of camper fits in the bed of your truck. The benefit of this camper is you don't have to pull anything behind you. However, you'll have to rely on your side mirrors. This is a great option for outdoor enthusiasts who want to go deep into the woods, because there's nothing to tow.
Travel Trailer – Like the pop-up camper, this is a great option for weekend getaways. They contain some similar home amenities and can be towed by an SUV or pickup truck.
Class C – This motorhome is great for road trips with your family. It includes many amenities of home and is easy to drive. You can even pull a car behind it.
Fifth Wheel – A Fifth Wheel includes a bedroom, bathroom, and fully equipped kitchen. It may also have an option for washer and dryer hookups. To pull this, you'd need a half-ton or three-quarter-ton pickup truck.
Class A – This motorhome provides you with a luxurious getaway. It has all the amenities of home, plus a lot of storage. It even has enough towing capacity to pull a car, small boat, or motorcycle.
Rental Requirements
Like Airbnb and other home rental companies, there are several RV rental companies, such as Outdoorsy, RVshare, and Cruise America. To get started, you can visit their sites and enter your criteria to find the best RV for you. Like renting a home, you'll need to put down a security deposit. If you return the RV undamaged at the end of your trip, the security deposit will be returned to you.
Like a rental car, insurance is required on an RV. Some rental companies will offer insurance while others may not. If insurance isn't available, you'll need to contact your insurance agent to see what coverage is available through your existing insurance company. I recommend doing this early in the rental process so you can select the best coverage for you and avoid being put on the spot.
RV vs. Auto Insurance
Renting an RV is more affordable than buying one, especially if you only want to use it a couple of times a year. If you plan on renting one this summer, talk to your insurance agent about insurance coverage. Your auto insurance policy may provide some coverage for driving-related accidents. Also, your home insurance policy may provide some coverage for your personal property. With this being said, you'll still need additional liability coverage. If your current insurance carrier doesn't provide additional coverage for renting an RV, it'll be available for purchase through your rental company.
License Requirements
Most states don't have a special license requirement for driving an RV, unless it exceeds a certain weight and length. Click here to see your state's requirements.
Safety Tips
1. Pay attention to the weather. There are plenty of weather apps available to help you keep track of weather conditions as you travel. Many RV accidents are a result of driving in poor conditions, including heavy rain, high winds, and fog. If you get caught in a pop up storm, or any of these conditions, pull off the road and wait until conditions improve. Lastly, never drive through standing water. It may be more dangerous than it looks.
2. Share trip details with your friends or family. It's always a good idea to share your travel itinerary with others and to touch base with them throughout your journey. This way, if any problems arise, they may be able to lend a helping hand.
3. Set aside supplies in case of a breakdown. Consider buying extra food, water, and other supplies and keeping them separate. This way, if a breakdown occurs, especially near the end of the trip, you won't be stranded with limited supplies. Also, if you take prescription medications, make sure you have extras as well.
4. Discuss escape plans. Just like with your home, discuss escape plans with your family in case a fire occurs. Because there may be only one door, alternative points of exit are important. Lastly, don't forget to identify fire extinguishers and make sure there are working smoke alarms.
5. Create checklists. Getting ready to go on a road trip requires attention to detail. To make sure you're ready, consider creating checklists. Here are some examples:

Packing

Pre-trip inspection
Post-trip inspection
Supplies
Maintenance
Campsite arrival and departure
Driving Tips

1. Practice, practice, practice. Before heading down the interstate, practice driving in your neighborhood or on less busy streets. This will help you develop a feel for how the unit handles, as well as gain confidence. If you have a large vacant parking lot nearby, consider doing some maneuvers there as well.

2. Watch your speed. Whether driving an RV or towing a camper, monitoring your speed is important. Due to the weight and length of your unit, braking distance can increase significantly. Also, items you have inside can shift during transit causing damage. Lastly, driving at a slower speed, can decrease fuel consumption.

3. Know how tall your RV is. Have you ever seen a tractor trailer stuck under an overpass or its load spilled all over the road because the trailer didn't have enough clearance? This could easily happen to you. Figure out what you need for clearance before starting on your journey.

4. Don't cut the corner. When driving straight down the road, your wheels track in the same lane. When you're making a turn, the rear wheels follow a shorter path than the front wheels. Cutting a corner too short at a minimum could put your wheels on the curb. More severe damage could occur, such as hitting a parked car or driving on someone else's property.

5. Make small, calculated maneuvers. Always be aware of what's going on around you. This will allow you to make small methodical adjustments when braking, accelerating, or turning. Panicking and making aggressive changes can cause you to lose control causing significant damage and injuries.

6. Monitor your tires. Driving is one of the most dangerous things we do in our lives. We rely on four tires with a contact patch the size of our hands to keep us travelling down the road safely. Tires can fail due to worn tread, improper inflation, and a vehicle that's overweight. Make sure to keep these things in mind when you're travelling.

7. Always use your directional. Because of driving at a reduced speed, drivers behind you may get impatient and try passing you. Always use your directional well in advance so they know what your intentions are.

For additional driving tips and other safety information, visit the

RV Safety & Education Foundation

.

For tips on protecting your campsite click here.

Do you have any tips or related information you'd like to share? I'd love to hear from you; please share them in the box below.