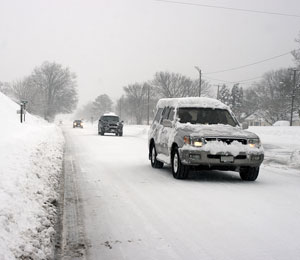 If you live in a climate that gets snow, winter driving is a part of life. Unfortunately, it still provides challenges for many people. So far this winter season, snowfall has been light in Southeastern Wisconsin; however, when I watch the local news, I'm always surprised at the number of accidents on the freeway system.
A good way to prepare yourself for winter driving is to practice and understand how your vehicle handles before going out in the storm. Here are a few things you can do.
1. During the day and in a safe area, practice driving on snow and ice. At slow speeds, try to swerve to see how your car reacts. With all the safety features in cars today, they handle much differently than cars did in the past. Less correction may be appropriate. For example, as soon as my vehicle's back end starts to slide in slippery conditions, it makes corrections for me.
2. Figure out your brakes. If you have anti-lock brakes, push down hard and don't let up even though it feels and sounds weird. If you have non-antilock brakes, you need to pump them so you don't lose control. Practicing how they work before you have to use them in a real-life situation is wise. Anti-lock brakes help you maintain control of your car. They do not shorten the braking distance needed to stop in slippery conditions.
3. Understand how four-wheel or all-wheel drive vehicles handle. If you have a four-wheel or all-wheel drive vehicle, practice is also important. These vehicles aren't invincible. The systems help with traction when starting from a stoplight, sign, or getting through thick snow. They don't keep you glued to the road when it's snow covered and slippery and you're driving too fast for conditions. My wife's all-wheel drive car handles very differently from my SUV.
Here are more tips to keep you and your family safe this winter. "6 tips for driving this winter season".

Lastly, The Safe Driver has created a winter driving quiz. The purpose of the quiz is to get you thinking and prepared for the winter driving season and the different conditions you may face.
Do you have any tips or information you'd like to share? I'd love to hear them; please share them in the box below.