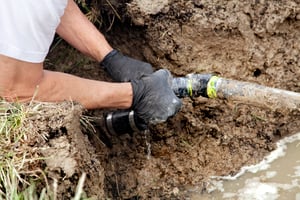 If you own a home, you know that if something breaks or fails, it can cause unexpected and devastating expenses. Underground lines that service a home for such things as water, sewer, gas, and internet can break, requiring costly repairs. While most of these lines aren't covered by a base homeowner's insurance policy, many insurance carriers offer optional limited coverage that can be added.
What types of underground lines would be covered? West Bend's Underground Service Line Coverage Endorsement protects lines that provide water, sewer, natural gas, electrical power, internet access, telecommunications, data transmission, drainage, compressed air, heat, and steam. All these underground service lines provide great things to a home but can also present a great deal of risk!
So now that we know what kind of lines are covered, what kinds of "risks" to these lines are covered? Coverage is provided for an "underground service line failure." Failure could include a leak, break, tear, rupture, collapse, or arcing of an underground service line connected to a home. It doesn't include blockage or low pressure if the line hasn't experienced any physical damage. The line must also run on the property owned by the insured. Check out the scenarios below to see how you could be impacted.
Claim Scenario 1
Let's say your home suddenly has no water or low water flow. You call a plumber who makes an emergency visit for an extra charge. The plumber tests the lines and determines the PVC piping from your home to the city's lateral line is leaking. The repair requires removing a tree and other landscaping, then excavating down several feet into the ground. This requires additional materials and labor to replace the damaged lines. Repairs will cost thousands of dollars just to get running water back to the home. West Bend's Underground Service Line Coverage Endorsement would provide up to $15,000 for repair expenses, as well as potential expedited fees, tree removal, landscaping repairs, excavation costs, line replacement, etc.
In today's world of online connectivity, many people who work from home or go to school online could be devastated by internet failure. Here is another scenario.
Claim Scenario 2
The internet service isn't working so a technician spends several hours troubleshooting. He discovers the underground line that runs 500 feet from the road to the home must be replaced because the pipe that was installed 25 years ago to protect the line has deteriorated and collapsed, crushing the wires. The costs of trenching, excavation, material, labor, and possibly cutting through the driveway, sidewalk, or yard could all be covered by the Underground Service Line Coverage Endorsement up to the limit.
Be sure to talk to your local independent agent about the exposures of underground service lines that provide many necessary services to your home. The minimal additional premium you'd pay would be well worth it if it saves you thousands of dollars in unexpected and devastating expenses!
Do you have any suggestions or information you'd like to share? I'd love to hear from you. Please share them in the box below.
This blog was written by Joyce Schuett, senior Personal Lines underwriter and trainer.
This article is intended for general educational and illustrative purposes only and should not be construed to communicate legal or professional advice. Further, this article is not an offer to sell insurance. Please consult with your licensed insurance agent for specific coverage details and your insurance eligibility. All policies are subject to the terms, conditions, limitations, definitions, and exclusions contained therein.