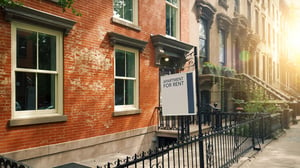 If you're heading off to college or you're a recent college graduate, renting an apartment is another step into the journey of adulthood. Renting an apartment allows you to have your own place without all the upkeep and expenses associated with owning a home. If the water heater ruptures, you can call the landlord. If the roof is damaged by a hailstorm, it's the landlord's responsibility to have it repaired or replaced.
If you're at a different stage in life, you may be downsizing and renting an apartment until you find a smaller home that's perfect for you.
Whatever the case may be, the downside of renting is an unresponsive landlord. We've all heard horror stories about situations that aren't handled appropriately. This can be very frustrating and stressful as a tenant. That's why it's important to understand tenant rights. Understanding your rights can help you navigate through a challenging situation.
While each state may have different tenant rights, there are some common ones you should be aware of. To learn more about your state's tenant rights, click here.
1. Right to livable conditions. Again, one of the benefits of renting is that the landlord is responsible for maintaining the building and making sure it's safe and up to code. As a tenant, you're entitled to working utilities like heat, water, and electricity. In addition, working smoke detectors should be present and the apartment should be free of mold, bugs, and rodents. If your apartment becomes uninhabitable because something is wrong with the property and your landlord fails to fix the problem, you may be able to break your lease without facing penalties.
Please keep in mind, however, that you're responsible for keeping the apartment clean, preventing damage from occurring, and respecting others.
2. Right to have repairs made in a timely manner. Before signing your lease, discuss with the landlord how repairs will be handled and in what time frame. Communication is key! Ask the landlord what their communication preference is. If they prefer phone calls, don't send them an email. They may never check it. The urgency of the problem may dictate the method of communication and the response time.
It's important to understand that landlords can't enter your apartment anytime they'd like. Based on where you live, state law may dictate the amount of time you must be given before they can enter your apartment. Again, that's why communication is so important. Both parties should know how to get in contact with one another.
Lastly, you can't withhold rent payments to get a faster response to a problem. Rent must always be paid on time.
3. Right to receive an eviction notice. After signing a lease agreement, there are terms and conditions you must abide by. If you break them, you may be evicted by your landlord. The eviction, however, won't happen spontaneously (i.e., your personal belongings won't be out on the curb when you arrive home after work). There's a process that must be followed. Your renter's rights entitle you to the right to receive an eviction notice.
Once you receive the notice, you're given time to rectify the situation. For example, if you have unpaid rent, you have time to pay the landlord. Or if you have animals in your apartment, and they're not allowed, you would have time to find them a new home. If you fail to remedy the situation, your landlord can file an eviction proceeding which is processed in court. Depending on the outcome, you could be responsible for court costs.
4. Right to a returned security deposit. Many states have a statutory deadline in which your full security deposit must be returned to you after you move out. Normal wear and tear can't be deducted from your security deposit. Normal wear and tear items include, but are not limited to:
Faded or worn carpets
Peeling or cracking of paint
Cracks in walls as a result of foundation settling
Dirty grout around tiles
Worn door handles
Money can be withheld, however, for damaged property as a result of your neglect or abuse. Damaged property reduces the value or usefulness and may include:
Significant holes in walls
Stains, burns, or holes in carpet
Broken doors or windows
Missing tiles
To prevent disputes from arising, conduct an inspection before moving in our out. Take pictures to serve as evidence if needed later.
Now that you understand your rights, here are some tips when you're looking for a new apartment.
1. Inspect the apartment for safety. Make sure windows and doors have working locks. Also check for working smoke and carbon monoxide detectors.
2. Make sure apartment amenities are in good working order. Make sure the appliances are clean and function as designed. Test light switches and outlets. A buzzing or flickering light may be a sign of a potential problem. Lastly, flush toilets and turn on faucets to make sure the apartment has adequate water flow.
3. Listen for peace and quiet. A good night's sleep is important. Listen for street noise. Can you hear traffic or people walking by? Can you hear other tenants? If the building lacks proper insulation between walls or floors, apartment living can be noisy.
4. Ask how they handle maintenance requests. Depending on the size of the apartment complex, they may have a property manager on site 24/7 that can help you when something goes wrong.
Insurance
Most landlords require insurance as part of the lease agreement. Even if it's not in the lease, it's in your best interest to carry insurance for your personal property, as well as for liability. To learn more about the different coverages in a renters policy, check out the blog "OWN VS RENT? Don't forget to insure!"
Do you have any tips or information you'd like to share? I'd love to hear from you. Please share them in the box below.
Source:
https://www.legalzoom.com/articles/tenants-rights-knowing-your-rights-as-a-tenant
https://www.mysmartmove.com/SmartMove/blog/landlord-guide-normal-wear-tear-in-rentals.page