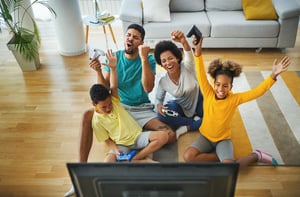 We all have personal property and want to protect it in case of loss. But many people don't understand how it's covered by their homeowners insurance policy. You can protect your property on a homeowners policy in a few ways.
The first way is what's included automatically in your policy. The limit of coverage depends on your insurance carrier. Some carriers take a percentage of your home limit and designate that for your personal property. The percentages commonly used are 50%, 60%, or 70% of the home limit. West Bend is unique and doesn't designate a limit. Instead, it's included in a blanket limit that's calculated based on your home value.
Coverage for personal property to an unendorsed policy is on a named peril basis. This means the perils that are covered are listed in the insurance contract. Some carriers will pay a loss settlement based on the actual cash value of the personal property, which is replacement cost minus depreciation. These policies can be endorsed to include replacement cost coverage. The Home and Highway® has replacement cost coverage on contents for all the homeowners forms which include home, condo, and renters. The policy will pay for a loss to your personal property if it's damaged by one of the perils specifically listed in the policy form. All losses to personal property are subject to the policy's property deductible.
The second way to protect your personal property is to add an endorsement that broadens coverage from named perils to risks of direct loss or all risk coverage. When this endorsement is added to the policy, it extends the coverage to include all causes of loss except those specifically excluded.
Consider these examples:
1. Power surge isn't a covered peril on the unendorsed personal policy. But if you add risks of direct loss coverage or special personal property coverage to your Home and Highway policy, this loss would be covered subject to the home deductible.
2. Let's say your child is playing Xbox, and the controller goes into your $2,000 TV and damages it. Without all risk coverage, you'd be stuck paying the bill because that's not a listed covered peril in your policy.
Covered losses may also be subject to the special limits of liability that are listed in the homeowners coverage form. These are built-in limits in the homeowners form that limit the amount of coverage for a specific type of property, such as jewelry, silverware, and firearms.
The third way to cover your personal property applies to items that have a higher value or may have a particular limit of liability in the policy form. You can specifically schedule these items. Examples of things that are commonly scheduled include jewelry, furs, firearms, and fine arts.
When items are specifically scheduled, the coverage is changed from named perils to risks of direct loss and all losses are covered except those specifically excluded. The coverage is replacement coverage up to the limit the item is scheduled at, and the insurance carrier will replace the item. You can also schedule items on an agreed value basis. If this is done, the scheduled item is paid out to the limit agreed upon and shown on the declarations page, and the insured can then replace the item in the event of a total loss.
Of course, any loss on a Home and Highway policy would involve your knowledgeable claims adjuster to help you through the process and review your options with you.
If you have questions, please get in touch with your independent agent.
This blog was written by Kim Bechler, senior Personal Lines underwriter.
This article is intended for general educational and illustrative purposes only and should not be construed to communicate legal or professional advice. Further, this article is not an offer to sell insurance. Please consult with your licensed insurance agent for specific coverage details and your insurance eligibility. All policies are subject to the terms, conditions, limitations, definitions, and exclusions contained therein.