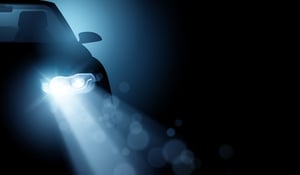 Daylight Saving Time has ended and winter is just around the corner. Now's the time of the year, we start doing many more things in the dark. An everyday activity that becomes riskier is driving. Nationwide, almost half of all driving deaths happen at night, which is three times greater than during the day.
We all know that headlights are an essential component of our cars. Because of their importance, they shouldn't be overlooked. Keeping them clean from debris is especially important this time of year. In addition, if your car is several years old, now's a great time to change them. Proactive maintenance can prevent a ticket from local law enforcement and can improve nighttime driving.
Like the lights in our homes, headlights are also changing. Newer car models have xenon/high-intensity discharge (HID) or LED bulbs. New technology is allowing manufacturers to produce more efficient and brighter bulbs.
If you have halogen or standard bulbs in your car, can you change them and get something better? Unfortunately, the answer requires you to do some research. However, after reading this blog, you'll better understand the different types of headlights on the market today and your options.
Halogen/Filament
This type of headlight is considered the standard light and is still used in most cars today. These bulbs are like incandescent light bulbs used in homes. They produce a more yellow hue. Even though halogen bulbs have been around for many years, they still offer a couple of advantages. They're easy to make and are affordable for consumers. On the downside, these bulbs aren't as bright and don't last as long as other headlight bulbs.
Xenon or High-Intensity Discharge (HID)
This type of headlight uses gas instead of filaments and is very bright. They tend to be used in luxury cars.
LEDs
LED headlights also emit a brighter, white light. These headlights are found in newer cars or hybrids. These bulbs use less energy which can reduce the load on your car's alternator. LED headlights offer many additional advantages, such as improved efficiency, light quality, durability, and safety.
Finding replacement headlights for your car
Depending on your car's year, make, and model, you may not be able to swap out one headlight bulb for another easily. Read your owner's manual, call your local auto parts store, or check with your dealer to learn more. A conversion kit may be needed to make your car's latest and greatest headlight a reality. Some conversion kits may need to be installed by a mechanic, while you can install others. Either way, new headlights may be just what you need to improve your safety and ability to drive at night.
Don't forget about your other lights
Now's also a good time to check out the other lights on your car to ensure they're in good working order.
Taillights. Produce a red light and help you recognize other vehicles that are driving in front of you.
Daytime running lights. Make it easier for other drivers to see you even on lovely, bright, sunny days.
Turn signals. Don't forget to use them! It dramatically helps other drivers understand what you're doing. Remember, other drivers can't read your mind.
Brake lights. Don't forget to check your third brake light, which may be installed on the center of your trunk or tailgate. Federal law mandates that all vehicles have a third brake light.
Hazard lights. While not used often, they're significant! Check your car out to make sure you know where to find it.
Fog/driving lights. These are mounted in the lower front of your car and provide additional light in poor driving conditions. These lights turn off when you turn on your bright beams.
If you would like to find your car's appropriate headlight or replacement bulbs, please click here.
For additional information, check out our blogs below.
Seven tips for making driving at night easier
Vehicle warning lights and their meanings [Infographic]
Understanding your car sensors and tips to keep them clean
Don't burn your house down when converting to LED lighting
Can you see what's going on in your house?
Do you have any suggestions or information you'd like to share? I'd love to hear from you. Please share them in the box below.
Source:
https://www.thevehiclelab.com/types-of-headlights/
https://shop.advanceautoparts.com/r/advice/car-maintenance/what-to-know-before-replacing-vehicle-headlights