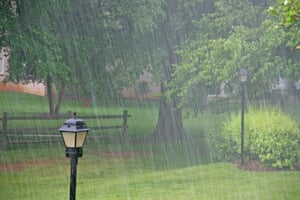 Have you heard about water backup and sump pump overflow as an optional coverage that can be added to your homeowners policy?
If not, this blog will discuss the protection it provides, as well as what causes a loss and how to prevent it.
When Mother Nature unleashes a record-breaking rainfall, it can overburden the sewer systems, causing raw sewage to back up into residential drains. Also, if you have a sump pump, it may not be able to keep up, or it could fail due to a power outage thus causing the water to overflow the sump crock and come into your home. If you've purchased the optional insurance coverage, you'll have some coverage for damages. West Bend offers four coverage limits to give you the flexibility to carry just the right amount of coverage for your finished or unfinished basement. Your agent can assist in determining the coverage that is available to you. Be sure to read your policy for specific coverage details.
If you experience overflow, you'll want to respond quickly to protect your home and valuables. Immediate cleanup will help minimize damage and inconvenience and possibly prevent the growth of mold and bacteria.
Here are important steps to follow.

1. Call your insurance agent or carrier to report the claim. The claims adjuster will help assess the severity of the damage and the safety of the environment to determine if you can start cleanup yourself or if you'll need to contact a mitigation company. Please remember:
Turn off your electricity as water can be a conductor.
Sewage can be hazardous, so it's best to leave that to the professionals.
2. Start the cleaning process.
If the sump pump overflow is "clean" water, you can usually start the process yourself. This includes:
Moving belongings to a dry area

Wet vacuuming

Moving air with a fan or dehumidifier

Cleaning floors and walls with soap or disinfectant

Steam cleaning or removing wet carpets

Thoroughly cleaning and drying salvageable property
3. Contact a mitigation service. If the damage requires mitigation services, your insurance carrier may refer you to a preferred provider. Or you can contact one on your own. It's important, however, to find a reputable company that can provide prompt service! In addition to the steps listed above, the mitigation service may also inspect your home's major systems and flush out and disinfect plumbing fixtures or clean ductwork. Work with your insurance adjuster to determine the appropriate clean-up response and the coverage available under your policy.
4. Keep documentation. Document Throughout the process, it's important to DOCUMENT the cleanup, especially if you're handling it on your own.
Take pictures of the damage.

Itemize and inventory any property losses.

Save all receipts related to repair, cleaning, or damages.
Again, swift action and thorough cleanup can help you return your home to the way it was.
If you have a sump pump, set a reminder to test it every spring, which is its busy season! In addition, the average life expectancy of a sump pump is about 10 years. If you notice any changes in how it functions, have it inspected by a licensed plumber as soon as possible.

For additional information on sump pumps click here.
Source:
https://www.iii.org/article/protect-your-house-from-sewer-backups

This article is intended for general educational and illustrative purposes only and should not be construed to communicate legal or professional advice. Further, this article is not an offer to sell insurance. Please consult with your licensed insurance agent for specific coverage details and your insurance eligibility. All policies are subject to the terms, conditions, limitations, definitions, and exclusions contained therein.