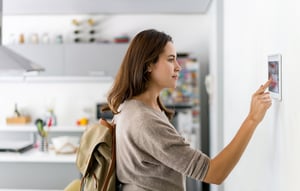 There are plenty of pros and cons to living alone. But one of the cons should never be safety. Some areas of the country are more dangerous than others, so choosing a place that makes you feel safe is always a good place to start. But no matter where you live, you should always feel secure in your home.

Whether you're out on your own for the first time or don't know much about safeguarding your home, you can do many simple things to make your living space more secure.
Here are a few things you can do to find comfort and security within your four walls.
1. Keep Others Out.
One of the risks of living alone is burglary. If would-be thieves know you live by yourself, they might try to find an opportune time to break in. There's nothing more invasive than someone coming into your home and taking things from you, especially if they mean to do you harm in the process.

Protecting yourself from burglars starts with investing in the right security features. Smart home security is becoming more popular, and it's a great way to see if anyone is snooping around your home, even when you're not there. Whole-home security sensors and emergency sensors are great ways to be in the know. Plus, smart locks keep your home secure from anywhere, even when you're miles away.
2. Be Aware of Internal Dangers.
Sometimes, your home itself could be unsafe. If you've never lived alone or owned/rented a home before, you might not be aware of some of the common safety hazards, including:
Carbon monoxide

Mold
Asbestos
Poor air quality
One of the best things you can do is install carbon monoxide detectors and air quality monitors. They will alert you to any harmful changes in your home environment. If you live in an older home, hiring an inspector to come out can be worth it. They can alert you to the possibility of mold, asbestos, or other harmful substances in the air so you can take action immediately.
3. Always Be Prepared.
Safety and preparedness go hand-in-hand. Sometimes, dangers within your home are unavoidable, like fires. But being prepared will help to keep you safe. Be sure your smoke alarms are working and you have a fire extinguisher on hand.

Protecting yourself if you experience an accident at home is essential. It's common to slip and fall, trip over things, or injure yourself at home. If you can't get to a phone or leave your house because of your injury, having a check-in system is an excellent way to ensure you won't be left alone. Talk to neighbors, friends, or family members about periodically checking in with you so you'll never have to go too long without contact from someone.

Living alone should be fun and exciting. It offers a unique sense of independence and allows you to create a home that fits your personality. However, safety should always be a top priority. Remember these safety measures to ensure your home is secure, so you can enjoy living in peace and comfort.
Do you have any suggestions or information you'd like to share? I'd love to hear from you. Please share them in the box below.
Author Bio: Noah Rue is a journalist and content writer, fascinated with the intersection between global health, personal wellness, and modern technology. When he isn't searching out his next great writing opportunity, Noah likes to shut off his devices and head to the mountains to disconnect.