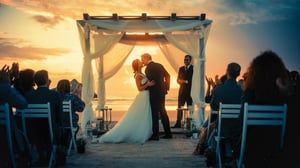 If you're a bit unfamiliar and plan to attend a wedding this year, here's some etiquette information to consider.

1. Don't miss the RSVP date. Considerable time and money go into planning a wedding. In addition, worker shortages and supply chain issues can have an impact on planning. So, getting an accurate attendance count is even more critical now than in past years. If you're invited to a wedding, RSVP as soon as you can. It's not necessary to wait until closer to the RSVP date. If you respond that you're attending, but then something comes up, let them know. No matter what event you're planning, no-shows can be costly and frustrating.

2. Bring a guest only if invited. There are several factors that go into creating a guest list. Budget is the obvious one, but venue size also plays a part. If the invitation is addressed to you only, plan to go alone. If the invite says, "Plus One," it's ok to have someone accompany you.
3. Bring children only if invited. Again, refer to the invitation for guidance. If you're unsure, ask the couple before returning your RSVP. Never bring children to an adults-only wedding.
4. Follow the dress code. Wedding dress has changed over the years especially with more people choosing destination or outdoor weddings. However, if the wedding couple has a specific dress code they want followed, it's likely stated on their invitation or wedding website. To learn about different dress code styles, click here.


5. Visit the couple's website. If a wedding website is listed on the invitation, be sure to check it out. It may contain useful information regarding travel, the venue, accommodations, or FAQs. This can help prevent the couple from being inundated by phone calls and text messages.
6. Don't forget to turn off your phone. Nothing can ruin a special moment more than a phone ringing. Be sure to turn your phone off for the ceremony and again at dinner. If you need to take a call, find an area that won't be disruptive to the wedding party or other quests. Remember you're there to celebrate the couple's special day.
7. Be respectful when taking photos. While it might be tempting to snap a quick photo, be aware of your surroundings. Trying to take a photo during a special moment can be distracting or disruptive to the wedding couple as well as those around you. Remember, they'll be working with a professional photographer. Click here to learn about social media etiquette.
8. Give a suitable gift. Giving a gift can be challenging. But visiting a couple's registry can make it easier. If there's nothing on the registry that you want to buy, consider money or a charitable donation in their names. Because there's a wide range of advice on the appropriate amount of money to give, here are some things to consider.
a. Venue location
b. Menu selection
c. Your relationship to the couple
d. How much you can afford
9. Avoid being the center of attention. Save personal announcements for a different day. This includes putting things on social media. Also, party responsibly. Too much alcohol can cause uncomfortable situations.
10. Have fun. Enjoy everything the day has to offer, even if means being out of your comfort zone.
Do you have any tips or ideas you'd like to share? If so, I'd love to hear them. Please share them in the box below.