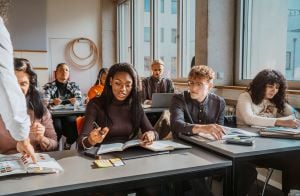 Choosing which college or university to attend can take time and effort. So many decisions need to be made. If you or your student plan to commute, that takes away some, but not all.
Here are some pros and cons of commuting and some commuter tips.

Pros
1. Can make college more affordable. Fluctuating fuel prices and wear and tear on your vehicle add up; however, it's usually more cost-effective. You don't have to pay for on-campus housing and food plans. Also, we've all heard stories about astronomical rent in poorly maintained homes.
2. Allows you to continue enjoying the comforts of home. When I was in college, I had no interest in campus life. I preferred staying home with my family and eating home-cooked meals. Yet both my daughters couldn't wait to live on campus.
3. Allows you to keep your current job. Living at home and commuting to college allowed me to keep my job at our local grocery store. In return, I was able to pay my tuition.
4. Develops confidence. After graduation, some careers may allow you to work from home full-time, while others may require you to be in the office or job site. Commuting to a college campus helps you:
Develop and improve your driving skills.

Figure out how to succeed at time management.
Feel more independent.
Be more responsible.
Cons
1. Time and energy drain. Commuting can consume time and energy depending on mileage, traffic, and weather. I'd suggest a commute of 40 minutes or less. I'd recommend living on campus if it will be a longer commute.
2. Miss out on campus life. If you don't live on campus, you'll miss impromptu gatherings. Also, it may be challenging to attend scheduled events or study groups.
3. Scheduling conflicts. Scheduling classes, study groups, and work can become difficult. Gaps or back-to-back classes can interfere with other aspects of your life.
4. Distractions at home. Various distractions at home such as chores, hobbies, and siblings, can make studying difficult.
Tips
1. Get involved. There are many opportunities to participate in college activities. From clubs to sports, there should be something for everyone.
2. Enjoy the commuter lounge. As commuting has increased in popularity, today's college campuses have lounges where commuters can study, relax, and meet other commuters.
3. Use downtime wisely. Between classes, study, workout, relax, or catch up on emails. No matter how much pressure you feel, don't neglect your well-being.
4. Consider commuting with others. While class schedules may not align, commuting with others can be beneficial.
5. Get to school early. Hindsight is always 20/20. Getting to school earlier would have made my life easier and more stress-free. Hitting the snooze button several times doesn't work well if you have an early morning class. Getting a late start can lead to erratic driving, which can have serious consequences.
Do you have any suggestions or information you'd like to share? I'd love to hear from you. Please share them in the box below.