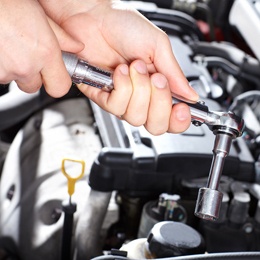 Auto recalls have become very prevalent in the news the past few years. It seems like every other week, a manufacturer is announcing a recall. The Takata air bag and GM's ignition switch recalls are two of the big ones as of late.
Does this mean the vehicles produced today are of poor quality compared to years past? Not necessarily. What's different today is that consumer advocates are tracking vehicle data which helps point out quality defects. Automakers now feel the pressure from these groups to come clean on defects before a quality issue turns into a scandal.
An auto recall takes place when a manufacturer or the National Highway Traffic Safety Administration (NHTSA) identifies a safety-related defect that doesn't comply with a federal motor vehicle safety standard.
Recently, the Alliance of Automobile Manufacturers and the Association of Global Automakers jointly wrote several insurance companies and the Insurance Institute for Highway Safety asking for help.
According to a recent study by Carfax, more than 47 million vehicles have at least one open safety recall. That's one of every five vehicles on the road today. That one vehicle could belong to you, your family member, or your friend. Regardless of whose car it is, it potentially puts everybody at risk.
Do you cringe when you get a recall notice in the mail? I do. The reasons why 25% of vehicle owners fail to follow up on recalls are: People feel they're a nuisance;
Too busy or too difficult to fit into daily schedule;
The defect will never happen to me; or
Owners simply are unaware of the recall.
While you may consider an auto recall a nuisance, there some benefits to the auto recall process.
Benefits of vehicle recalls
Keeps us safe on the road. In 2015, there were 257.9 million cars and light trucks registered in the United States. Organizations like the NHTSA are keeping a watchful eye on quality defects which helps get dangerous vehicles off the road and into repair shops. Think of how much more dangerous our roads would be if vehicles weren't repaired
The recall work is free. When a recall is issued, your vehicle can be taken to your local dealer for free repairs. While it can still be a nuisance because of the time it requires, the cost to keep your family safe isn't coming out of your own pocket.
Focus on quality. Because there's so much emphasis put on quality these days, automakers are becoming more willing to fix the problems.
What's on a recall notice?
If a recall notice shows up in your mailbox, here's what you'll find on it.
A description of the recall;
The risk or hazard caused by the defect and any signs that can alert you of a problem;
A description of what will be fixed and when the repair will be available; and
What the owner can do if the problem isn't resolved.
To see if your car is affected by a recall, simply visit http://www.safercar.gov/. To use this tool, an accurate vehicle identification number (VIN) is needed. You can also sign up here for e-mail alerts for your vehicles.

To learn more about why auto recalls are important, and in an effort to spread the word, I recommend watching these videos. They're well done and easy to understand. Share them with your kids!

For more information on the Takata airbag recall, visit my blog below.

Over 30 million vehicles recalled due to airbag defect. Is your car one of them?

It's important to understand that if a recall is issued, your vehicle has a significant defect that can lead to injury or death. Don't you want to keep yourself and others safe? Please share this important information with your friends, family, coworkers, and neighbors.

Sources:

http://www-odi.nhtsa.dot.gov/recalls/recallproblems.cfm
https://hedgescompany.com/automotive-market-research-statistics/auto-mailing-lists-and-marketing