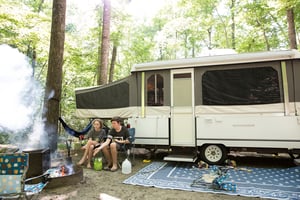 Camping is a great way to spend time with family and friends. There are also several benefits associated with camping, including:


Reduced stress
Improved sleep
Improved mood
Increased physical activity
Making sure your camper is properly insured can also reduce stress in the event you need to file a claim. Even though summer is winding down, it's never too late to review your insurance policy, especially if your camper is permanently parked. Here's some information to consider.

Recreational pull-behind camping trailers can be towed behind a vehicle and visit a variety of places. They can also be placed on a more permanent basis on leased lots within campgrounds or on land a policyholder owns. Once parked, they're typically connected on a permanent basis to utilities such as electric, sewer, water, etc. There can also be structures built onto or near the camper such as roofing systems, decks, three-season rooms, storage sheds, garages, etc. Insurance carriers write permanently parked campers in multiple ways. They can be insured on a Personal Auto policy or on a Dwelling Fire policy. There are pros and cons for both options.

A Personal Auto policy is typically intended for campers that remain mobile and are towed from place to place. The liability coverage while towed comes from the vehicle it's being towed by. The liability while temporarily parked comes from the personal liability coverage in a homeowners policy. The physical damage in the auto policy, if purchased, has Other Than Collision (Comprehensive) and Collision coverage. The coverage is quite broad, but gaps can arise once parked more permanently.
Some companies use the number of consecutive months in a year a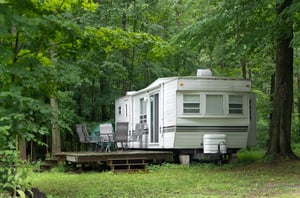 camper is hooked to utilities and not moved to define what they consider "permanently" parked. One of the biggest gaps from an auto policy is that there's NO liability coverage for the leased lot or land unless that has been separately purchased. Policyholders often fail to advise their agents that they are planning to park, or at some point have parked their camper. This creates a gap that's possibly unknown until after a claim occurs and it's discovered certain types of coverage are missing. Another gap of a parked camper on an auto policy is there's no coverage or ability to add any other structures like decks, sheds, garages, roofing systems, etc. built on or near the camper. Last, contents coverage from the primary homeowners policy has language treating a parked camper like a secondary residence. This results in very limited contents coverage for personal items in the parked camper.
The other coverage option for a camper that's more permanently parked is a Dwelling Fire policy that insures it like a home/structure. Policyholders benefit because any structures attached to the camper become part of the overall insured dwelling structure limit. A percentage, often 10% with the ability to be increased if needed, is also included toward any detached structures. Liability is also included with a Dwelling Fire policy at the location listed. One of the largest gaps on a Dwelling Fire policy for a parked camper is theft isn't an included peril. So, if the entire camper is stolen from the site, there's no coverage. While that sounds impossible, believe me, those claims DO occur! Another downfall is the coverage of a limited Dwelling Fire policy has less covered perils, so it's not as broad of coverage as the auto policy.
While the value of the camper itself may seem like a lot in some cases, the bigger exposure is liability. Campfires, tripping hazards, guests and friends visiting frequently, and alcohol consumption are all common at campers whether parked temporarily for the weekend or permanently. Policyholders can be found negligent and liable quite easily for injuries or damages to others in these environments. So, it's critical whether the parked camper is placed on an Auto or Dwelling Fire policy to ensure liability is extended to that location including a specific lot number if within a campground.
To avoid gaps in coverage, be sure to clearly communicate with your agent if your camper is mobile or parked and how it's used so he or she can accurately assist with the proper coverage to protect your assets.
Do you have any information you'd like to share? I'd love to hear from you please share them in the box below.
This article is intended for general educational and illustrative purposes only and should not be construed to communicate legal or professional advice. Further, this article is not an offer to sell insurance. Please consult with your licensed insurance agent for specific coverage details and your insurance eligibility. All policies are subject to the terms, conditions, limitations, definitions, and exclusions contained therein.