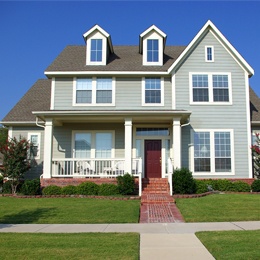 Owning a home is a big investment. Unfortunately, Mother Nature and Father Time can damage your roof and siding.
Theresa Meyer, senior personal lines underwriter shares this information about roofing and siding materials. Please consider this if it's time to replace your roof or siding.
Composite shingles have improved and are better able to hold up to our Midwest weather. However, they are still susceptible to damage from severe storms. If your roof has been damaged by a storm or your roof is older and it's time to replace it, consider installing a roof with a label UL2218 Class 4 or FM4473 Class 4. These classes of material are designed to withstand the impact of larger hail and resist damage to your roof. Steel roofs are also designed to withstand penetration from hailstones. Many insurance carriers offer a discount if one of these roof materials is installed. To learn more about these different roof types, visit the links below.
Roof Types
There are also new siding materials designed to resist impact from hail. Installing siding with cellulose fiber-cement siding and trim such as Hardie-Panel, Hardie-Plank, or LP Smartside can also provide a discount from insurance carriers.
Siding Options
HardiePlank Siding: Gorgeous Stuff, But Is it Worth the High Cost?
In addition, you can install several types of protective devices that may result in a discount on your homeowner's insurance. Most popular are the central station alarm systems in which a third party monitors your home for fire or theft and contacts the proper authority if an alarm is triggered. There are also alarms designed just for fire that report directly to the fire department. Another alarm system for burglary would report directly to the police department.
Installing improved building materials or an alarm system will help protect your biggest investments – your home and personal property.
Additional Information
Throwing good money away on bad contractors
Do you have any information you'd like to share? I'd love to hear from you please share them in the box below.
This article is intended for general educational and illustrative purposes only and should not be construed to communicate legal or professional advice. Further, this article is not an offer to sell insurance. Please consult with your licensed insurance agent for specific coverage details and your insurance eligibility. All policies are subject to the terms, conditions, limitations, definitions, and exclusions contained therein.