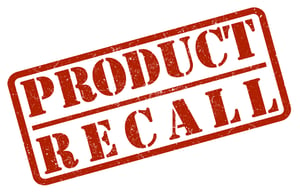 If you own a home or rent an apartment, there may be a safety device that gets overlooked. That device is a smoke alarm. They're mounted on the ceiling, and we know they're there, but we usually don't pay attention to them. Properly installed and maintained smoke alarms are important tools for reducing fire deaths and injuries. If there's a fire in your home, it doesn't take long for smoke to spread. A functioning smoke alarm provides advanced warning so you and your family can get out safely.
Carbon monoxide is a poisonous gas that's also colorless, odorless, and deadly. This poisonous gas is produced by the incomplete burning of fuels like coal, wood, charcoal, oil, kerosene, propane, and natural gas. The only way to detect this gas is to have a carbon monoxide alarm. If either of these detectors fail, the consequences can be deadly.
Recently, a variety of smoke and combination smoke-carbon monoxide alarms made by Kidde were recalled, because they may fail to alert you in the event of a fire. It's estimated that 226,000 devices are affected by this recall. They were sold between May 2019 and September 2020.
The image below identifies the affected models and where to look on the detectors for additional information.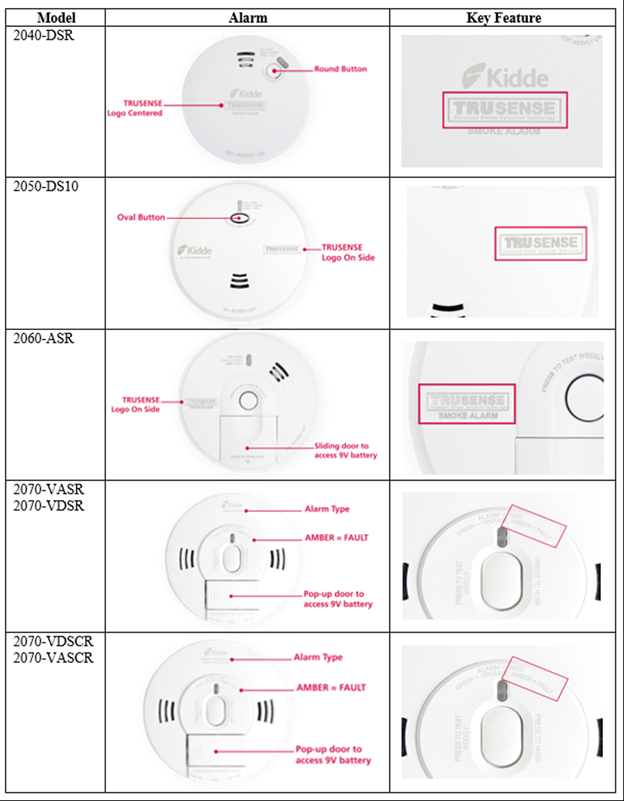 If you find you have an alarm included in the recall, contact Kidde by clicking here.

As a reminder, here are some of the common causes of house fires.
1. Cooking. Have you ever left the kitchen for just a "quick second" and returned to a boiling pot overflowing? The number-one cause of house fires is cooking. It's best never to leave your kitchen unattended when cooking.
2. Heaters. Most home heating fires occur in December, January, and February. If you're using a supplemental heating source, be sure to keep flammable materials at least three feet away from it.
3. Electrical. Electrical fires can start in many ways. Some causes are old wiring, an overloaded electrical outlet or circuit breaker, and extension cords. If your electrical system needs to be updated, talk your local licensed electrician.
4. Smoking. Never smoke in a bedroom.
5. Appliances. Common appliances can cause fires. An old or faulty element in a dishwasher or lint build up in a dryer are just a couple of examples. Always remember to run your appliances when you're home and awake.
6. Candles. While candles look nice and add ambiance to your living room, never leave them unattended. From 2014 – 2018, the National Fire Protection Agency (NFPA) reported 7,610 candle fires each year, resulting in an annual average of 81 fatalities, 677 injuries, and $278 million in property damage.
7. Grills. I love my gas grill and use it all year. If your fire goes out, open the lid and let it air out. Immediately pushing the igniter could cause an explosion. Also, always make sure it's cool before returning it to the place it's stored. A hot grill pushed up against the siding of your home could cause a fire.
8. Fire pits. Sitting around a fire pit has become a popular pastime. However, always pay attention to the weather forecast. Windy conditions can cause sparks to fly everywhere.
9. Children playing with fire. According to the NFPA, an estimated 7,100 home fires occur each year because of children playing with fire.
While we can't eliminate all potential causes of house fires, I hope this information keeps you and your family safe.
Do you have any tips you'd like to share? I'd love to hear them; please share them in the box below.
Source:
https://www.nfpa.org/~/media/fd0144a044c84fc5baf90c05c04890b7.ashx#:~:text=Property%20damage%20was%20estimated%20at%20%2414.8%20billion.&text=Most%20fire%20losses%20were%20caused,property%20damage%20(83%20percent).

https://www.nfpa.org/-/media/Files/News-and-Research/Fire-statistics-and-reports/US-Fire-Problem/Fire-causes/osCandles.pdf

https://www.nfpa.org/News-and-Research/Data-research-and-tools/US-Fire-Problem/Children-playing-with-fire