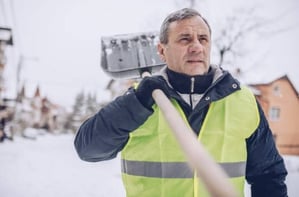 After a quiet December, Mother Nature has really created a ruckus in Wisconsin the last several weeks. From significant amounts of snow to extremely cold temperatures, winter's back!
If you're fed up with shoveling, it may be time to hire a snow removal service for the remainder of the season. If you've recently hired a snow removal service or plan to, you should be aware of the potential risks.
Accidents happen, especially in slippery, icy conditions. What if their worker slips and falls on your driveway or causes damage to your home or to property of others? You might be held responsible. That's why it's important to have the proper insurance, for both you and the company, to ensure coverage for potential losses.
Here are some things to do to ensure you're both protected:
1. Consider requesting a copy of their current Certificate of Insurance. You'll want to look for two types of coverages:
Liability insurance covers property damage and injuries caused by their workers.
Workers' compensation insurance provides payment to injured workers for lost wages and medical services, regardless of who was at fault.
If they can't provide proof of insurance, don't hire them!
2. Verify that they're bonded.
Bonding protects you if they fail to complete a job or fail to meet other financial obligations, such as paying for damage the worker caused to your property.
To determine whether your snow removal service is bonded, ask for a bond number and certification. You should take extra precautions to ensure that both the bond and the license are up to date.
3. Make sure they bring and use their own tools and equipment.
If you offer your own equipment to them, you assume the responsibility to ensure the equipment is suitable for the job, is in safe condition, and they're trained to use it.
4. Keep a copy of all paperwork.
Include proof of licensing (if required), bonding and insurance, the contract, invoices, proof of payment, and all letters and e-mails.
Winter can be a long season and who knows what surprises Mother Nature may have in store. Keep your surprises to a minimum this winter and be prepared if you hire help.
For additional tips on hiring a snow removal service, check out the link below.
Burned out with shoveling snow?
Do you have any tips or information you'd like to share? I'd love to hear them; please share them in the box below.
Author Bio: Wendy Wagner is a senior Personal Lines underwriter and has been with West Bend for seven years. In her free time, Wendy enjoys snorkeling and swimming with manatees and sharks. Wendy and her family also love fostering dogs and finding them new homes.
This article is intended for general educational and illustrative purposes only and should not be construed to communicate legal or professional advice. Further, this article is not an offer to sell insurance. Please consult with your licensed insurance agent for specific coverage details and your insurance eligibility. All policies are subject to the terms, conditions, limitations, definitions, and exclusions contained therein.