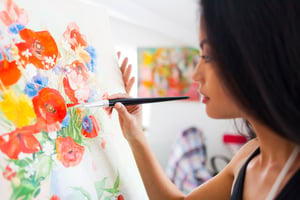 With busy lifestyles, it's often hard to find free time for ourselves. Sometimes, however, we need to purposefully schedule relaxing time in the day or the week to enjoy a favorite pastime. It could be playing your favorite sport, enjoying an outdoor activity, taking pictures, or making crafts.
Some hobbies require an investment in equipment and supplies. That's why it's important to review your insurance policy to determine what coverage it provides for that equipment and those supplies. A standard homeowner, condo, or renter policy provides coverage for direct physical loss to property described in coverage C (personal contents) caused by specific listed perils. This means that if a particular type of loss isn't listed, there would be no coverage.
If a cause of the loss isn't on the list of covered perils AND it's not specifically excluded, it may be a good idea to talk to your insurance agent to see if you can purchase additional coverage.
There are also certain types of personal property that can be scheduled for an additional premium. Examples include jewelry, cameras, coins, guns, and sports equipment. When property is specifically scheduled, the homeowners deductible would not apply.
What happens if your hobby becomes more than just a hobby? For example, you sell the crafts you make at craft fairs. How do you determine if your favorite hobby has become a business?
West Bend's standard homeowners policy states:
Business means: A trade, profession or occupation engaged in a full-time, part-time or occasional basis; or any other activity engaged in for money or other compensation, except the following:
One or more activities… for which no "insured" receives more than $2,000 in total compensation for the 12 months before the beginning of the coverage period.
When your annual income exceeds $2,000, your standard homeowners policy would no longer provide coverage since your hobby would be considered a business activity.
In that case, you should talk to your agent again to determine if your policy provides adequate coverage for your hobby or business exposure.
Do you have any tips you'd like to share? I'd love to hear them; please share them in the box below.
This blog was written by Theresa Meyer, senior Personal Lines underwriter.
This article is intended for general educational and illustrative purposes only and should not be construed to communicate legal or professional advice. Further, this article is not an offer to sell insurance. Please consult with your licensed insurance agent for specific coverage details and your insurance eligibility. All policies are subject to the terms, conditions, limitations, definitions, and exclusions contained therein.